Fans Slam Stephen Bear For 'Causing The Death Of His Puppy' After It Died Suddenly
17 May 2018, 15:30 | Updated: 17 May 2018, 16:32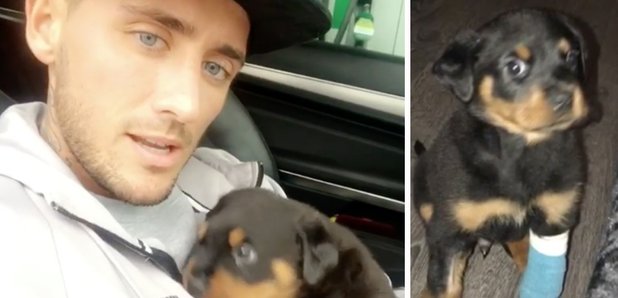 Things haven't been going well for Bear lately…
Stephen Bear hasn't been having the best of times lately, and it doesn't look like it's going to get any better soon after fans have turned on him, accusing him of 'causing' his puppy's death on social media.
Geordie Shore's Chloe Ferry Surgery Timeline: Before And After Pictures Revealed
Bear had been posting about his new puppy, Wolverine, and even got the dog's name tattooed on his neck, before announcing just days later that the dog had died in its sleep.
Since Stephen picked up the puppy, the dog ended up having an operation on its paw, and having one leg amputated before its sudden death, and, although the cause of the dog's death is unknown, some fans have claimed his treatment of the pup could have contributed.
One tweet, which has gained 15,000 likes read, "I tried to bite my tongue and failed. I don't know why Stephen Bear is getting so much sympathy over the loss of his puppy. You were taking him outside before he had his full injections. No surprise he caught an infection resulting in needing his leg amputated at a few weeks old.
I tried to bite my tongue and failed. @stephen_bear #bear #stephenbear #vile pic.twitter.com/Rg4WTBLGE5

— Asher Lloyd (@asher_lloyd) May 14, 2018
"The day you picked him up after the op you have him running around playing fetch when he should of been on cage rest. And you're surprised that you woke up to find him dead in his blanket?
"You are a f**king disgrace and I hope you are never, ever, EVER allowed another animal in your company. You did not deserve a dog, you were using him as a prop for Instagram from the moment you got him.
"And you think having his name tattooed on your neck makes you owner of the year? I f**king hate people like you. And you're clearly not upset going out drinking and being happy all over social media. You are vile."
Other fans blamed the pup's health issues on greedy breeders who put profits before the health of the animals they supply, and urged others to adopt rather than buy from breeders.
Stephen is yet to respond to the fans' claims, which come after fans slammed his "wonky" neck tattoo and he was replaced as co-presenter of Just Tattoo Of Us with his ex Charlotte Crosby by her former Geordie Shore co-star, Scotty T.
Download Our Fabulous New App For All The Latest Celeb News