WATCH: Blac Chyna Did The Mannequin Challenge During LABOUR... PLUS The First Baby Pics!
11 November 2016, 08:13 | Updated: 4 December 2017, 11:10
Even Kris Jenner was there for the birth of the brand new Kardashian baby!
Blac Chyna gave birth to the first official Kardashian baby... and she did it in try Kardashian style by filming a Mannequin Challenge while in Labour!
The baby - named Dream Renee Kardashian - arrived at 9.18am on Thursday 10th November, weighing 7 pounds 5 ounces after Chy was admitted to a private suite at LA's posh Cedars Sinai for a planned cesarian section delivery. The hospital suite costs $4000 a night and is the same place Kim Kardashian gave birth to baby Saint.
The couple posted the hilarious video on Instagram, and even proud granny Kris Jenner was there to enjoy the moment:
The couple also wasted no time in introducing the baby to the world with a series of pics... and HOW cute are those chubby cheeks?!
Unlike his sister Kim - who waited MONTHS before allowing the public a glance at her baby - Rob posted a snap shortly after the birth, with a touching caption.
Rob wrote, "Today was amazing :) I am so lucky!! Thank you @blacchyna for having our baby and being so strong ! I love you so much and can't wait to see her get older day by day with you Chy! I love you and Dream so much and Appreciate both of you. I know everyone saying that's my twin but that's def your nose Chy lol"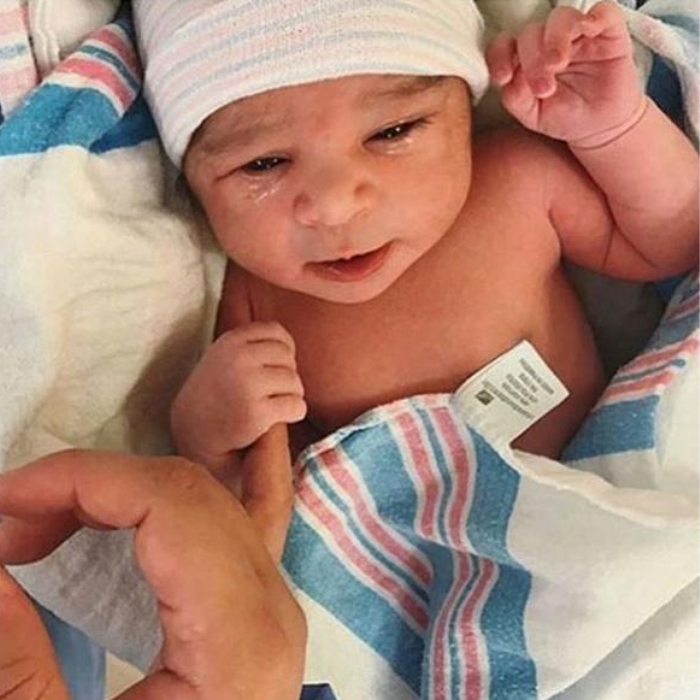 Rob also pointed out a striking similarity between the new baby - whose name almost makes North West seem beige - and his late father, Robert Kardashian:
Blac Chyna's BFF Amber Rose - who awkwardly also happens to be Kanye West's ex - was one of the first visitors to get a cuddle with baby Dream:
The family were over the moon with the new arrival, and the congratulatory tweets kept coming:
My new niece is absolutely stunning!!! So thankful I was able to land in time to witness this miracle happen! Praise God!

— Khloé (@khloekardashian) November 10, 2016
Feeling joyful and blessed to meet my little angel niece this morning...dream come true

— Kourtney Kardashian (@kourtneykardash) November 11, 2016
I can't stop looking at her congrats @robkardashian @BLACCHYNA she's so beyond beautiful, a dream

— Kylie Jenner (@KylieJenner) November 10, 2016
Chyna also posted a Snapchat video of her and her new daughter, where the newborn baby appears to smile. N'aww!
Baby Dream came almost a week before her due date, arriving on 10th November instead of the 16th - and the rumours of the impending arrival started a couple of days earlier when Rob tweeted and deleted a picture of a baby carrier and Chy's mum, Tokyo Toni flew in to LA for the birth.
When the moment had arrived, Kris hired some serious security to stop paparazzi being able to take photos of the baby and the couple, who had planned to film the birth for their TV show, Rob & Chyna.
However, whether fans will actually get to see the birth on TV hangs in the balance, as the hospital apparently banned the use of recording equipment on their premises. There will be a baby special on 18th December charting the lead up to the birth and the first days after the arrival of little Dream.
Congratulations, Rob and Chyna! We can't wait to see more of Dream!