Olivia Attwood Reveals Her Shock As Dom & Jess Are Pictured Copying Her & Chris' Outfits On A Day Out
10 October 2017, 17:05 | Updated: 4 December 2017, 11:10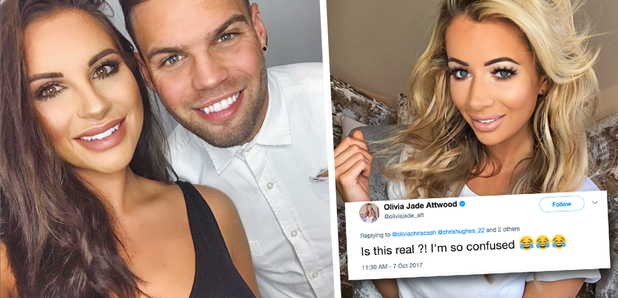 The pose in the picture is almost identical too!
Now this could be an honest case of accidental imitation, but it's genuinely left us all a little bit confused.
Love Island's Dom and Jess have been snapped wearing almost identical outfits to fellow couple Olivia and Chris, but we can't figure out why!
> "That's All Our Bars" - Chris & Kem Hit Out At Marcel & Reveal Their Love Island Bromance Is Over
First of all, Olivia and Chris went to much-loved theme park Thorpe Park recently and to combat the British weather the pair wore matching black winter coats teamed with black trousers. Check out the picture of the happy couple below...

(Pic: Wenn)
But now, a picture has emerged of Dom and Jess at another theme park, Alton Towers, wearing almost exactly the same outfits and posing in the exact same way...

(Pic: Backgrid)
We know that everyone probably has a black coat in their wardrobe somewhere, but there's no denying these are VERY similar to Olivia and Chris'. Then there's the fact that they both happen to be at theme parks. What is that all about?
The whole thing had us confused as anything, but not as confused as Olivia herself! The Love Island lass took to Twitter to reply to someone who'd put together a 'who wore it better' tweet and wrote, 'Is this real?! I'm so confused'.
Is this real ?! I'm so confused

— Olivia Jade Attwood (@oliviajade_att) October 7, 2017
Of course fans were quick to comment on the similarities of the couples' outfits too...
Dom and jess look like the tesco value version

— Annabel (@Annabelconstanc) October 7, 2017
None of there coats are even the same

— leona leahy (@Leonaleahy2) October 8, 2017
It's real alright. I thought they had borrowed them off you and Chris

— Andrea McCabe (@AndreaMcCabe9) October 7, 2017
That's terrible, Dom & jess's coats look like bin bags

— Paige Williams (@paywilliamsx) October 7, 2017
This all seems like a massive coincidence to us, but it's a pretty spooky one don't ya think?!
> Download our Brand New App Now For All The Latest Celebrity Chat!
Whilst you're here, check out what happened when Kem & Chris joined us in the studio...