Creepy Clowns Have Been Spotted In The UK So Excuse Us While We Never Leave The House Again
10 October 2016, 15:11 | Updated: 10 December 2018, 12:49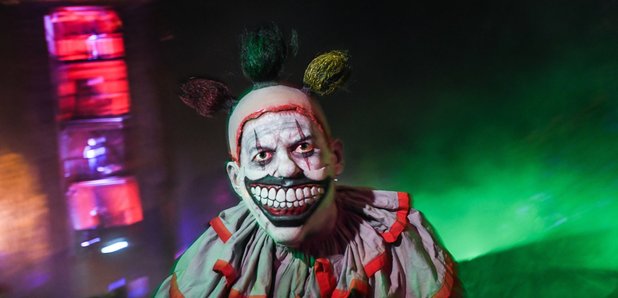 The terrifying trend started in the USA but sightings have now started in the UK too…
We have to admit we were quite intrigued when we first heard about the sightings of creepy clowns in the woods of America, but now the epidemic has spread to our side of the pond and we are NOT OKAY.
WTF is going on, we hear you ask…
Well, the whole thing started in South Carolina back in August when a police report was filed about clowns being spotted in the woods "whispering and making strange noises".
Since that story broke, several copycat sightings were reported in states all around the USA, with clowns even chasing a teenager out of the subway in New York. Scary AF.
Clown digging a hole#Summit, #Missouri #CLOWN #clownsightings #sighting pic.twitter.com/MSqC8X1u7V

— Clown Sightings (@SightingsUK) October 7, 2016
Clown sightings being reported in Europe.
Dublin, Ireland pic.twitter.com/S6NBl8LRdm

— Clown Sightings (@CLOWN_SlGHTINGS) October 7, 2016
More and more clowns appearing in Europe.
Colchester, England pic.twitter.com/cLqqLnSkdl

— Clown Sightings (@CLOWN_SlGHTINGS) October 7, 2016
People have speculated that the clowns popping up are a viral marketing ploy for a movie adaptation of Stephen King's 'It', but the trend seems to have been picked up by copycats looking to scare the living daylights out of passers by.
Well, now it seems that it's come over to the UK (joy!) and clowns have been popping up on our shores and although nobody's been hurt by a clown so far, we definitely wouldn't want to bump into them in the dead of night. Shudder.
there's been clown sightings where I live woop now there's another reason not to go outside

— lucy (@starryeyeddolan) October 9, 2016
thx america for bringing this clown trend over here. there have been 15 sightings in my neighbourhood the last 4 hours rip me

— katie (@brallielife) October 9, 2016
"Clown sightings in England, following kids and Wielding knives"
Just what I need!!!

— Rachel (@rachel_bemrose) October 8, 2016
THERES BEEN CLOWN SIGHTINGS IN UK IM SO GASSED

— sexy goddess (@purposexus) October 8, 2016
i'm laughing at the "clown sightings UK" page on FB they're basically all in Wales ffs

— matïlda (@puckleknuck_) October 8, 2016
TherES CLOWN SIGHTINGS IN THE UK BITXJ IM LEAVING BYE SOMEONE BOOK ME A FLIGHT

— leigh♡ (@lovelywonu) October 8, 2016
We know Halloween is only round the corner but let's keep the clown costumes for the night itself. Otherwise we'll be locking ourselves in our houses and refusing to leave to all the clowns are gone.