WATCH: Chris Hughes Reveals His Water Campaign Is Actually For Mental Health Awareness
10 October 2017, 11:35 | Updated: 4 December 2017, 11:10
Chris partnered with CALM to encourage men not to bottle up their emotions.
It's safe to say reality TV fans were a little confused yesterday when Love Island's Chris Hughes announced his partnership with Topshop selling bottles of water infused with his tears… but it turns out it is all for a good cause.
Chris revealed today that the campaign is to raise awareness of the mental health charity Calm and encourage men not to bottle up their emotions as suicide is the biggest killer of young men in the UK.
He said in the video, "L'Eau De Chris? No, ludicrous. Ludicrous that men bottle up their feelings every single day and ludicrous that suicide is the biggest killer in men under 45. This World Mental Health Day, don't bottle it up."
Chris, who is famous for crying multiple times on the show, posed in a David Beckham-style video for the bottled water, and encouraged men not to be afraid to show their emotions.
He explained, "Yesterday everyone was shocked that I had literally bottled my emotions in a water bottle infused with my tears. And as the L'Eau de Chris name suggested, doing that would have been ludicrous; yet this is what men across the UK are doing every single day.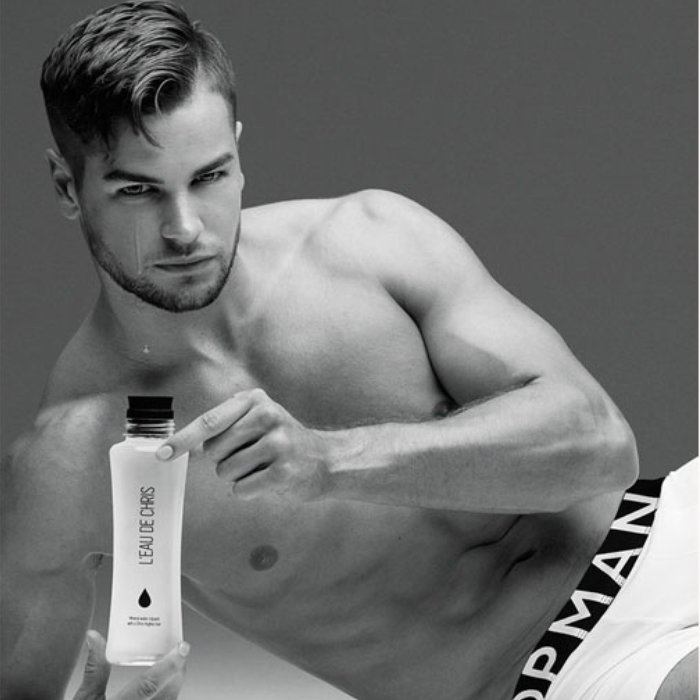 "What's really ludicrous is that suicide is still the single biggest killer of young men in the UK. We live in a culture that encourages men to 'man up' and bottle things up. That's why I've become an Ambassador for CALM and why together with Topman we want to show men across the UK that it's okay to open up instead of bottling it up.
"I've got personal experience of the benefits of opening up and expressing emotion, which is why I want to work with this incredible charity in its mission to making life less miserable for men across the UK. 'Our message to all guys is: however, you open up, just #DontBottleItUp."
While the bottles won't be on general sale, there will be a few limited editions auctioned to raise money for CALM, and Topman will also be donating £1 from every pack of boxers sold in October to the #DontBottleItUp campaign.