Charlotte Crosby & Stephen Bear Cause Chaos On This Morning Covering Schofe In Silly String
3 April 2017, 16:17 | Updated: 4 December 2017, 11:10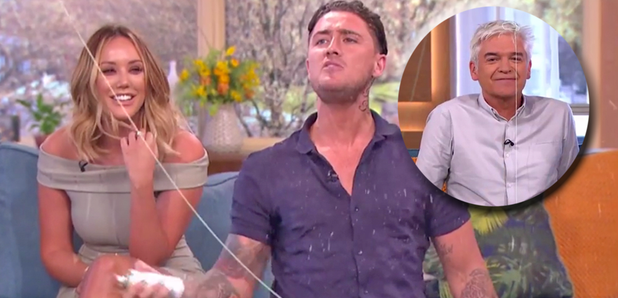 They also confirmed that they're talking marriage & babies too!
Stephen Bear and Charlotte Crosby are the reality TV couple that make everyone smile. Wild behaviour is never too far away when the two are together and that was too true when they appeared on This Morning earlier.
The pair were in the studio to discuss their brand new show Just Tattoo Of Us and it ended up being one of the most memorable interviews in a long while.
Check out the video of their chat with Rylan and Schofe below to find out exactly what happened...
The pair were asked by Schofe about their relationship and they confirmed that they are indeed boyfriend and girlfriend.
"It's like a love story...it's unbelievable!" exclaimed Bear, before Charlotte added, "We're gonna prove everyone wrong - we're soulmates!". The pair have been dating since meeting on their new show a few months ago, but this is the first time they've opened up about their budding relationship.
People quickly took to Twitter to share their thoughts on the chaotic interview and it's fair to say that opinions were pretty split...
@stephen_bear and @Charlottegshore are too cute on this morning but I cannot believe bears just silly stringed @Schofe

— Misscfleming (@ChloeFlembob) April 3, 2017
Can't cope with charlotte crosby and Steven bear on this morning, incredibly annoying, they're worse than toddlers with ADHD

— emma vaughan (@emmasdilemmas96) April 3, 2017
Just watched @Charlottegshore & @stephen_bear interview on this morning and all I can say is they're so cute! I've never seen her so happy

— Caoimhe Ryan (@keavaminor) April 3, 2017
Cringing at Charlotte Crosby and Stephen Bear on This Morning

— Lucy Matthews (@lucyrmatthews) April 3, 2017
Hahahahaha watching @Charlottegshore & @stephen_bear on this morning was the funniest thing ever

— nicole curtis (@coleecurtis) April 3, 2017
Bear also dropped the F-bomb during the interview, but whilst it was later removed from the video edit, eagle eyed viewers spotted it straight away and shared the live footage on Twitter...
Charlotte and Bear on #thismorning when over excited Bear drops 'F Bomb' https://t.co/tbIFz3tJBt

— Steve CFC Hudson (@HudsonHawk7519) April 3, 2017
There's never a dull moment with these two, that's for sure!
You may also like...