Stage Invaders! 15 Times Fans Got A Little TOO Close To Their Pop Star Idols
10 August 2017, 15:12 | Updated: 4 December 2017, 11:10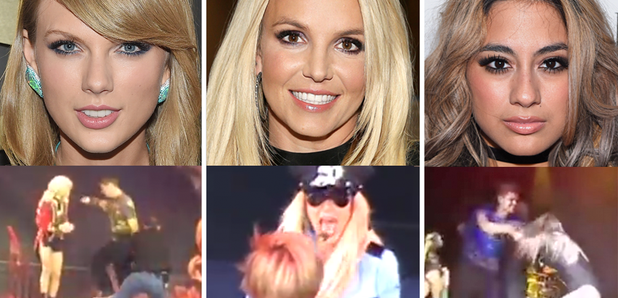 With Ariana Grande coming face to face with a fan on stage yesterday, check out all the times fans went too far and scared - or even injured - their music idols.
There's no shame in ADORING your favourite pop stars, but sometimes fans get a little too close to the line... or go MILES past it.
Check out these videos below of the fan encounters the stars would probably rather forget, or barely escaped from with their lives!
> 36 AMAZINGLY Nice Things Celebs Have Done For Their Fans And Others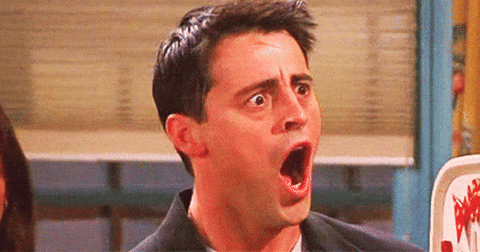 1. A fan jumped up on stage with Britney Spears, attempted to start dancing before getting floored by her backing dancers!
It seems that Brit has the best backing dancers in the business as they took matters into their own hands and floored a stage invader during a performance at Planet Hollywood. Her security surrounded her promptly on stage before escorting her away.
2. One fan crept up behind Ariana Grande on stage before getting brave and coming face-to-face with his idol
After security eventually decided to act on a random fan approaching Ariana whilst she belted out a tune on stage, her reaction was absolutely amazing. Concerned about the fan's safety, she could be heard saying "be gentle" - way to take the situation in your stride Ariana!
3. An overzealous fan grabbed Taylor Swift's leg, nearly dragging her off stage - and she gave him the MOTHER of all death stares.
When you're a global megastar like Taylor Swift, everyone wants a piece of you, but Swifty got a shock when a man leapt over a security barrier and lunged at her leg during a recent show. Luckily he got dragged away by security before he could pull Tay Tay off the stage, and she gave him the COLDEST look ever before carrying on as if nothing had happened. #Pro.
And here are the men being wrestled away by security…
4. When Beyonce pretty much got DRAGGED off stage by an over-zealous shirtless fan out in Sao Paolo, Brazil. NOT COOL.
The 'XO' superstar took being basically man-handled by one of the #BeyHive well and truly in her stride. As security tussled with the chap, she said, "Hey, hey - it's alright. He just got excited that's all", and proceeded to shake his hand and tell him she loved him too. Bey... you're a better person than us!
5. Poor Hazza! Who remembers when Harry Styles got hit smack bang in his crotch by a shoe thrown by one of the Directioners?
We won't lie to you - this is difficult to watch! The ferocity and speed at which the flying shoe comes at Harry will make you wince, especially when you see him crumple to the floor after it hits!
Oh... and once more from a different angle, just in case the first time didn't make you cringe enough...
6. Lady Gaga gets SMACKED in the face with a fan gift... but takes it ALL in her stride
Mother Monster was just minding her own business having a cuddle and a chat with some of her super-fans on stage when one (presumably jealous Monster) member of the crowd opted to lob a 'gift' right in her face.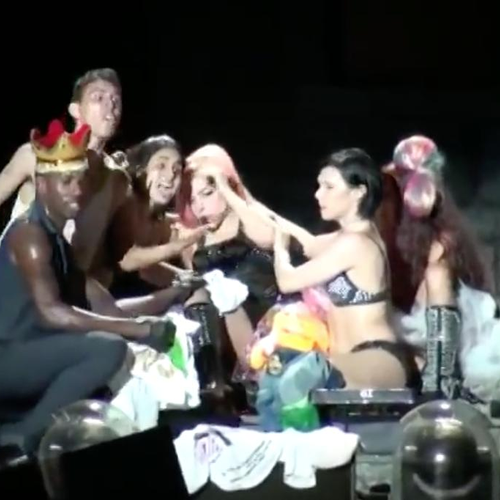 The sound it makes alone is enough to give you shivers but Gaga, the true pro that she is, calmly gets up and tells the crowd not to boo the guilty party. Pfft... leave Gaga alone!
7. Taylor Swift looked stumped - and more than a little terrified - when one chap confronted her on stage in London
The 'Shake It Off' star was performing in London on her 'Red' tour back in 2014 when she headed up to the top of a flight of stairs on the stage, only to suddenly find herself face-to-face with a member of the audience!
It looks like the bloke wanted to give her a note of some kind but SOMETHING tells us Tay wasn't too keen in the intense encounter.
8. Katy Perry gets attacked by.... yep, a lollipop! Luckily the US superstar handles it with a HILARIOUS response
After a fan lobbed the candy treat at her during a concert out in Melbourne, Katy pretended to be knocked down to the stage announced, "I never thought I would by by lollipop!"
9. Britney Spears gets SERIOUSLY freaked out after a chap runs up to her on stage... the face says it all!
The original Princess Of Pop was mid-lyric when she suddenly realised there was a strange man on stage coming towards her. Suffice to say, our Brits was MORE than a little perturbed and pretty much has a full-on panic until security remove the chap.
10. After injuring his knee Niall Horan suffered the ULTIMATE betrayal - a fan actually LOBBING something at his dodgy leg during a show!
This is SO not cool - as Niall limps around the stage one fan decided just after he had surgery on his leg would be the PERFECT moment to throw a heavy shoe right at the Irish heart-throb.
Unsurprisingly it does NOT help matters, but luckily Niall has his bandmates on hand to call out the naughty fan for a telling off.
11. Adam Levine pretty much got TACKLED by one cray cray lady during his show... this is LEGIT scary!
The Maroon 5 frontman turned around to find the over-excited fan had launched themselves at him, and had to physically remove her hands before she knocked him over.
Security stepped in and took her away but this one REALLY could've gotten nasty, and Adam seemed a little freaked out!
12. Justin Bieber gets a bottle of water thrown at him... and he doesn't take it too well unsurprisingly!
The 'Where Are U Now' star was all in the moment performing (topless, we might add) to his fans at a gig in Sao Paolo, Brazil, when suddenly a bottle of water whacked him on the arm.
Biebs whips his head around, looks like a wounded puppy for half a second... before leaving the stage entirely. Some people just ruin it for all the rest of us, eh?
13. Another one for Ariana Grande as she almost loses her head to a giant Victoria's Secret angel wing... but luckily lives to power through 'Bang Bang' for another day!
The US star was playing the fashion show even when a striding model with giant angel wings went THIS close to swiping Ari's head as she strutted her stuff past the performing stage. Ms. Grande's face said it all...
14. Fifth Harmony's Ally Brooke has come in for a few close encouters with over-eager fans in the past...
Whilst performing with her fellow 5H ladies in Monterrey, one fan couldn't resist running up to his favourite band member and grabbed Ally. Security quickly swooped in but Ally ended up being knocked to the floor!
She was also grabbed by a fan whilst walking through an airport with her 5H ladies too! She must be wondering 'why always me?'
Ally is little and small don't hurt her #727TourMonterrey also don't blame all MTY for this, it was just one fan pic.twitter.com/4vAQWMErCX

— Shady Facts 5H (@ShadyFacts5H) September 28, 2016
15. PLUS.... we couldn't resist... who remembers when Beyonce was LITERALLY attacked by a fan? Of the air circulating kind that is...

You may also like...