Khloe Kardashian Has Forgiven Tristan Thompson And Wants Their 'Perfect Life' Back
20 April 2018, 17:36 | Updated: 20 April 2018, 17:38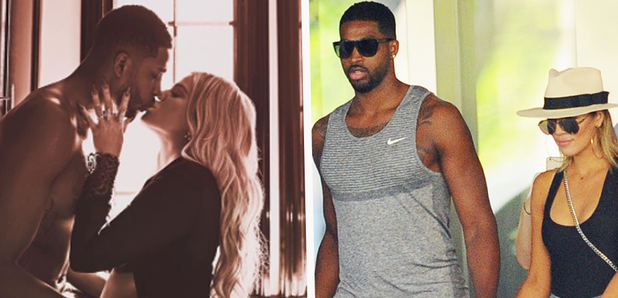 After one of the biggest Kardashian scandals yet saw Tristan Thompson cheat on a heavily pregnant Khloe, it's revealed she has forgiven him and it determined to give True a united family...
Tristan Thompson is in probably the most hated person on the internet right now after he did Khloe Kardashian so very wrong literally moments before she gave birth to their baby daughter, but the outcome of it all is not what people might expect.
From her gushing post on Instagram to staying in Tristan's house, it's clear the reality star has not made a clean break from her basketball player boyfriend...in fact, far from.
Is Khloe Kardashian Shading Tristan Thompson In First 'Unconditional Love' Post?
Sources have told a tabloid that "she's forgiven [Tristan] – or at least she's allowing him to go down that path of forgiveness," and is desperate to put the entire scandal behind them in order for True to be in a positive and happy environment. She hasn't kicked him out despite reports he was staying in a nearby hotel and wants the house to be their family home.
In fact, KoKo is said to be so intent on forgetting Tristan's antics that "she won't even discuss what happened in the house. She wants to erase the sordid past and pretend it never happened." Just days before the footage of him cheating emerged, Khloe was excitedly posting loved up pics of them and saying they couldn't wait for the baby's arrival.
However, Tristan is reportedly giving Khloe the space she needs to process everything that has gone down and is trying to win her forgiveness in the process.
Picture: GIPHY
That is some serious making up to do, but we are happy for KoKo that she's willing to let him and be #loyal one last time.
Download Our Fancy New App For All The Latest Kardashian News
Watch Tristan Thompson get close to another woman in a club