This New Kylie Jenner Fan Theory That She's Already Had Her Baby Will Make You Question Everything
28 December 2017, 12:52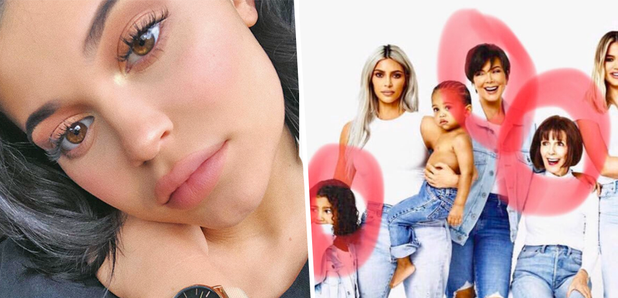 Admit it - you've been on the edge of your seat waiting for that pregnancy announcement!
Most people will try and tell you that they don't care about whether Kylie Jenner is pregnant or not and that there are far more important things to worry about.
Well, those people are 100% jumping straight onto social media to find out the truth when you're not around and then claiming they're not fussed - because let's be honest, we can't help but be hooked on this whole saga.
> Fans Are Hella Annoyed That The Kardashians Left Kylie Jenner Out Of Their Xmas Card Amid Pregnancy Rumours
Whilst there are pap shots of Kylie seemingly looking pregnant out there on the internet, the absence of an official confirmation has fuelled plenty of fan rumours and one has caught our attention.
Half of the Christmas card are looking at something THEY'RE LOOKING AT KYLIE JENNER HOLDING THAT BABY IM TELLING U pic.twitter.com/m6G6tORID1

— Call Me By My @ (@NotAgainBen) December 24, 2017
What if Kylie has already had her baby and is keeping the child behind closed doors until she's ready to share him/her with the world?!
We were all convinced that the Kardashian's 25 Days Of Chrismas Instagram posts were gonna lead to Kylie's announcement on Christmas Day, but when she was left out of the festive post, it made us queston where the heck she was!
Well there are plenty of fans who are convinced that the 20 year old has given birth ALREADY and they're hella convincing...
The reason the rest of them aren't looking at Kylie holding her baby:
- Kim's 2 busy serving
- Saint and Dream don't know how to work their eyes yet
- Khlo to busy thinking bout ha own foetus
- when they took mason's picture the baby was on the floor
- Kendall's photoshopped in pic.twitter.com/42BT6nPL3d

— Call Me By My @ (@NotAgainBen) December 24, 2017
y'all, Kylie already had that baby. It's time to accept what you know in your heart to be true: Kylie Jenner's baby is now out in the world making more money than you will ever see in your life.

— Tyler McCall (@eiffeltyler) December 26, 2017
what if kylie jenner makes the announcement on NYE instead? what if she already had the baby? what if we're all dead? what if

— Rosemary Donahue (@rosadona) December 27, 2017
Omg what if Kylie Jenner already gave birth since Khole is 6 months .

— X (@MYSTERIOUSSAINT) December 26, 2017
Did Kylie Jenner give birth already!!!????????? Is baby Kylie already on this earth?! I'm so deep in conspiracies I'm going CRAZY!

— Dillon Breckenridge (@DillonBreck) December 28, 2017
Was Kylie and her baby really the reason everyone was smiliing and looking off camera in those Christmas pics? We just don't know what to make of this whole thing!
We're pretty sure Ky's yet to have her baby, but we're enjoying being drawn in by these fan theories.
> Download Our Fancy New App To Find Out The Truth About Kylie's Baby First!
Whilst you're here, check out what Kris Jenner had to say about Kylie's 'baby'...