Cheryl Posted The Cutest Message About Khloe Kardashian's Pregnancy Proving They're Total #BFFGoals
21 December 2017, 14:59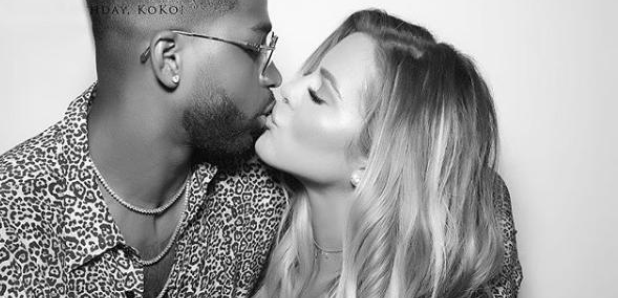 Plus Tristan Thompson's message to his pregnant girlfriend is just too lovely.
Last night Khloe Kardashian finally revealed that she was pregnant with Tristan Thompson's baby and we literally couldn't be happier for the KUWTK star.
Khloe's struggles to conceive have been widely documented on Keeping Up With The Kardashians, with her even visiting fertility doctors to try and get pregnant so it's no surprise her friends and family were overjoyed at the news being made public.
One such pal who couldn't wait to congratulate KhloMoney was none other than Cheryl – who has a surprisingly close friendship with the reality star – who commented on her post, "Khloeeee!!! such amazing news. I could not be happier for you. You gorgeous soul!
"You are about to have the best, most precious time of your life. And you truly deserve it. Congratulations Mommy. Wishing you a happy healthy pregnancy and what a wonderful way to start a new year."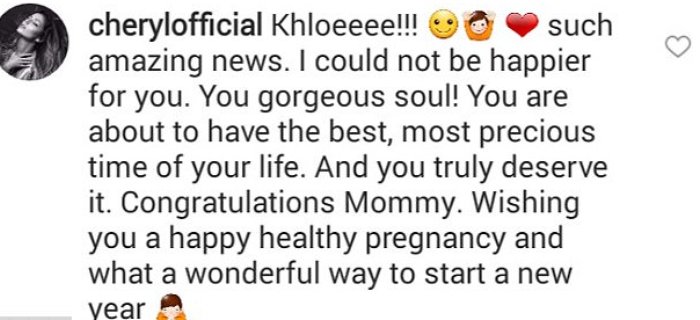 Khloe's baby daddy, Tristan Thompson, also posted a beautiful message to his lady, commenting, "My love, Thank you for allowing me to be a part of your journey and entering your life that day at the Bel Air hotel. One of the best moments in my life.
"I'm soo happy to be on this journey together with you and creating this angel from the man above. Everyday I give thanks to him for bring us together. I love you soo much and I know our little angel feels the love we share together and will know that mommy and daddy loves them unconditional forever and ever amen.
"Btw, shoutout the brodie @brandonjennings for bringing the King and Queen together. Love my G."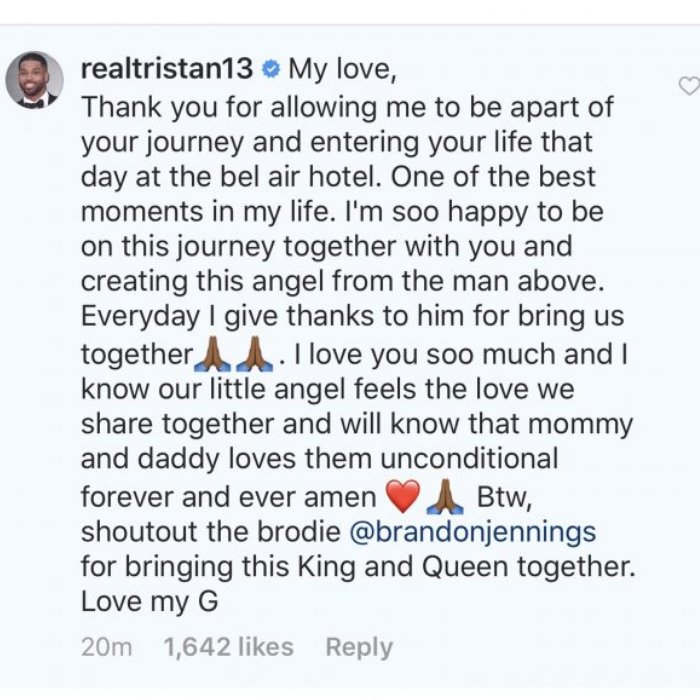 There's no doubting the news of this baby is going to make Khloe very happy – after all her struggles to start a family, fans are over the moon it's finally happened for her.
Honestly if you ever watched all those epps of the kardashians where khloe tried all them years for a baby and couldn't and now she's pregnant this is the happiest moment

— Abbie holborn (@abbiegshore) December 21, 2017
Khloe Kardashian has always wanted a baby. Her wish has finally been granted. This is beautiful. I'm not a fan of the Kardashians as a brand, but Khloe comes across so down to earth and lovely. She's so deserving. https://t.co/X0xea22PVy

— Miamii Mansour (@_Miamii_) December 20, 2017
Tend not to bother about the Kardashian's much but it's sooo nice to see Khloe is having a baby after how much she's struggled to have one and wondered if she could even have them

— Harriet Wright (@harriet_wrightx) December 20, 2017
Khloe was married to Lamar tried having a baby years and she found he was cheating and got told she couldn't have kids and thennnn baby boy Tristan comes along and gives us a miracle blessed

— Kiara Kardashian (@ciaraapoole) December 20, 2017
seeing khloe kardashian is pregnant has litro made me so happy she's wanted a baby for so long i can't i'm done

— georgia bines (@geobines) December 20, 2017
KHLOE IS FINALLY HAVING A BABY HOW CUTE

— jei (@xjeijeix) December 20, 2017
KHLOE AND TRISTAN ARE HAVING A BABY it's all too much

— matti (@mattiatkinson) December 20, 2017
ok but seriously khloe & tristan's baby is going to be so beautiful??????

— Tori Sterling (@toristerling_) December 20, 2017
Omg khloe Kardashian is having a baby, I feel so happy for her like she's one of my gals congrats K

— Millie Muir (@__milliemuir) December 20, 2017
BUT SOON KHLOÉS GOING TO HAVE A LITTLE BABY AND SHARING PICTURES AND VIDEOS... IM SO EMOTIONAL.. SHES GOING TO BE SUCH AN AMAZING MOM

— Khloé K News (@itsohsokhloe) December 21, 2017
Only true kuwtk fans will understand how big a deal a baby is to khloe

— Shaq Dalrymple (@ShaqDalrymple) December 21, 2017
I honestly can't even tell you how bloody happy I am for Khloe Kardashian on the baby news !!!!! If you are a fan you know how amazing this is for her after being told so many times that she might not be able to !! Ahh!!

— soph (@sophhales_) December 20, 2017
Congrats Khloe & Tristan – we can't wait for the little one to arrive!