Kendall Jenner Says That Met Gala Push Incident Is 'Absolutely False'
9 May 2018, 16:33 | Updated: 9 May 2018, 16:38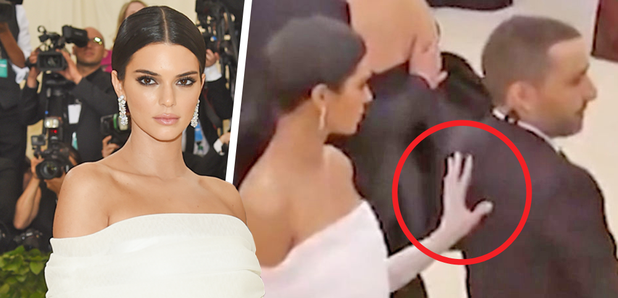 The 22 year old was forced to issue a response after a video appearing to show the reality star pushing a security guard went viral.
As one of the most high profile events on the celebrity calendar, all eyes are on the Met Gala each year. However, this year all eyes were not only on the amazing outfits people showed up in, but also on Kendall Jenner's left hand after she 'pushed' a security guard.
Now Kendall has made an official statement about the situation, such is the level of outrage online and in it she's denied the whole thing.
In a statement given to the Express, an official rep for Kendall revealed, "This is absolutely false. Kendall did not push anyone. She simply put her hand up so she was not stepped on."
> Kylie Cosmetics Just Got Hacked And This Video Was Posted
The Keeping Up With The Kardashian star made an appearance on the red carpet and posed for pictures wearing a gorgeous white jumpsuit, but as a member of security appeared to be backing in her direction she put her hand out to stop him from walking into her.
As you can see from the video above, Kendall's actions stopped a likely collision between the two, but many people on Twitter felt that her 'push' was out of order..
Kendall Jenner shows up to the #MetGala in the most bland toilet paper outfit and had the nerve to push one of the handlers out of the way who was just doing his job on the carpet #Rude #ERedCarpet

— Samara (@MizzSamz) May 8, 2018
Are we even surprised Kendall Jenner push someone bc the level of pettiness isn't new

— B (@moon_lightb26) May 8, 2018
Love how Kendall shows up to #MetGala and thinks she can push a security guard out of the way.
Like Hun no one is that special that they can push someone out of the way like that. Take a step back please.

— Eleanor Heap[PB] (@eleanor_heap) May 8, 2018
@KendallJenner did you really push that security guy out of the way

— Teena (@teenasaysss) May 8, 2018
Did yall see kendall push that security guard jdjdjd

— bea (@couldabeenyous) May 8, 2018
Soz peeps but we're calling no push on this - a light hand on someone's back is far from a push. Now we can all move on with our lives!
> Download Our Fancy New App For Loads More Celeb News!
Whilst you're here, check out Kendall Jenner discussing her 'baby fever'...