WATCH: Never Forget The Moment Dec Collapsed Live On SM:TV
12 April 2018, 16:36
Watching this live on a Saturday morning as a kid was genuinely a traumatising moment.
Ant McPartlin, Declan Donelly & Cat Deeley were a huge part of kids TV back in the late nineties and early noughties and anyone who says they didn't absolutely love SM:TV is clearly confused.
But how many of you actually remember watching the moment Dec collapsed live on the show?
> Here's Everything You Were Obsessed With In 2008 (And Most Of Them Should Just Stay In 2008)

As the video above shows, the presenters were dancing into their regular segment involving the SM:TV Postman when Dec appeared to feel unwell. As their dance ended Dec collapsed on the floor, much to the shock of the onlooking Westlife and B*Witched members.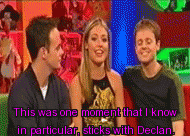 GIF: Giphy
Production staff ran onto the set and Dec's BFFs Ant & Cat appeared to call for help as the show suddenly cut from our screens to reveal an ITV message that read, 'Sorry about the fault. We're working hard to resume your programme as soon as possible'.
When the show returned, Dec was sitting on a desk in front of Ant and after thanking people for their calls of concern, he proceeded to reveal that the entire thing was an April Fools prank. DO YOU KNOW WHAT YOU PUT US THROUGH LADS!?
Imagine these two trying to get away with something like this epic prank in 2018! We'll never forget it though.
> Download Our Free App For Loads More Celeb News!
Whilst you're here, check out Ant & Dec's 'blinding' Byker Grover throwback on 'I'm A Celeb'...