6 Stars Who Dealt With Their Nude Photos Leaking In The BEST Ways Possible
30 November 2015, 12:18 | Updated: 4 December 2017, 11:10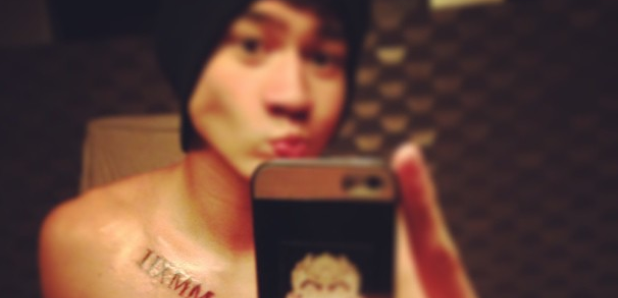 It's one of the most awkward things that can happen to any celeb, but these stars dealt with their private pics going public in the best ways possible.
OK, so leaking other people's private pics is NEVER cool, but some of the stars dealt with their privates going public in an excellent manner - and turned a seriously awkward situation round in their favour.
Justin Bieber
During a recent holiday in Bora Bora, a pap with a long lens camera TOTALLY invaded the Biebs' privacy by snapping some shots of the 'Purpose' star in the buff as he indulged in a bit of naked jacuzzi time (as you do). After the initial shock, Justin didn't let the photos faze him and told Ellen DeGeneres, "The first thing I saw that the censored one and it had like the black thing over it. And I was like oh my goodness like I don't know what this is gonna look like, and then it wasn't like as bad as I thought it was gonna be. It wasn't as terrible."

BUSET JUSTIN BIEBER NAKED DI BORA BORA... pic.twitter.com/5tzg7rZe1v

— Dito (@dditz) October 8, 2015
5 Seconds Of Summer's Calum Hood
When a photo started circulating the internet claiming to be of Calum Hood, rather than the deny the snap - which was a raunchy selfie that didn't show his face - Calum owned up to it, and told fans it was a mistake he would learn from because he's only young. That's pretty brave, Cal!
I'm still just a teenage kid learning from mistakes :)

— Calum Hood (@Calum5SOS) August 29, 2014
Miley Cyrus
While no nude pictures have leaked of Miley per se, the star has said that she's so open with posting semi-naked (and occasionally fully in the buff) photos of herself so that if anyone ever did hack into her phone, the public wouldn't be interested because they'd seen it all already. Which kind of makes sense, we suppose... though the only person that could pull off that attitude is Miss Cyrus herself!
Big Bang Theory's Kaley Cuoco
When the iCloud leak happened and hundreds of celebs private pictures went public, Kaley reacted to the gross invasion of her privacy by photoshopping a (fully clothed) snap of herself and her then-husband Ryan Sweeting walking down the beach together to look as if they were semi naked (hey, no one like tan lines), alongside the caption "Feels like we forgot something?" to make light of the embarrassing sitch. Kaley - 1, Pervy Photo-stealers - 0.
Ariana Grande
When photos emerged claiming to be of Ariana Grande's backside, the 'Focus' star laughed off the rumours telling her fans that her bum is "a lot cuter than that"! Well, that's one way to set them straight...
to every1 going on about my "nudes" & my "m&g prices" neither are real! my lil ass is a lot cuter than that lmao & tour details r comin soon

— Ariana Grande (@ArianaGrande) September 2, 2014
but forreal tho whoever thought those were actually me...... love u but I'm praying for u

— Ariana Grande (@ArianaGrande) September 2, 2014
Caroline Flack
Caroline committed the ultimate Instagram faux pas by accidentally posting a topless photo... of herself! Yep, she posted a snap of her hair and make up... and didn't spot that she'd not cropped the pic enough to hide her nipple. Once she spotted her mistake, Caz deleted the snap and uploaded the same one with the offending nipple cropped out. Casual!