12 MUST-SEE Celebrity Dubsmash Videos That Totally Own
1 September 2015, 11:51 | Updated: 4 December 2017, 11:10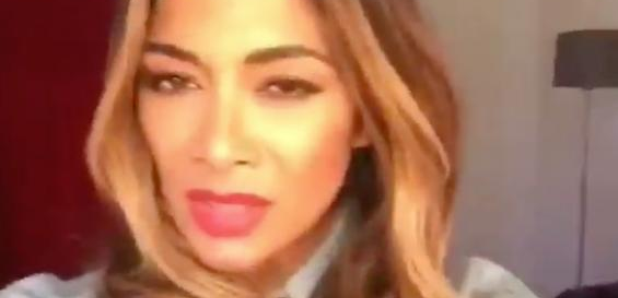 From Nicole Scherzinger revealing her 'break-up' with Ed Sheeran to Liam Payne transforming into Louis Tomlinson. These really are the BEST celebrity Dubsmashes of all time!
If you've yet to discover the Dubsmash app then you are in for a SERIOUS treat. In what is essentially organised lip syncing, the Dubsmash app allows you to mime along to your favourite songs, lines from movies and television shows as well as all kinds of Internet Vine goodness.
The app has celebrities from Liam Payne, Kendall Jenner, Hugh Jackman, Demi Lovato and many more addicted. So we've chosen the very best from the world of pop for you to enjoy!
1. Nicole Scherzinger
After facing a string of rumours she was dating Ed Sheeran, Nicole chose Dubsmash to dispel them! The singer performed a lip-sync of Ed's hit 'Thinking Out Loud' - captioning the post that she and the red-haired superstar had 'broke up today'. Oh Nicole, you tease!
"#TotesEmosh (Totally Emotional) that @teddysphotos and I broke up today #OrangeIsntTheNewBlackAnymore #ScherzyLosesItAfterSheeranBreakUp #NoMoreSheerzinger," Nicole wrote along side the AMAZING lip-sync. We have a sneaky feeling she was joking
2. Liam Payne
This particular Dubsmash from One Direction's Liam Payne will blow your mind! It's Liam, doing Louis - on Niall... Yep, sounds confusing and it is!
3. Adam Levine
Maroon 5's front-man Adam Levin nails this movie scene from Pulp Fiction. *Warning strong language.
4. Cara Delevingne
Cara shows off her rap skills as she lip sync's to Cam'ron's 'Hey Ma'... and her timing is spot on!
5. Camila Carbello
Who doesn't know all the words to Shrek?! Fifth Harmony's Camila certainly does as she slays this famous scene from the movie.
6. Hugh Jackman
Speaking of famous movie scenes... Hugh Jackman totally transforms himself into Harry Potter's Snape in five seconds of perfect lip quivering action.
7. Kendall Jenner
This homage to her BFF makes us wish Kendall Jenner was our best friend!
8. J-Lo
Jennifer Lopez makes this scene from Scott Pilgrim vs. the World look like it was made for her.
9. Reese Witherspoon and Sophia Vergara
Possibly our favourite Dubsmash of all is this video of Reese Witherspoon and Sophia Vergara on the set of Hot Pursuit miming to Taylor Swift, with a hilarious twist.
10. Demi Lovato
Looking smoking with her red lippy, Demi wears her best serious face as she channels her inner Nemo.
11. Rihanna
RiRi has serious fun lip-syncing in a series of Dubsmashes hanging out with her friends.
12. Kylie Jenner
There have been so many classic Kardashian TV one liners, we're not surprised Kylie Jenner picked this famous Kim Kardashian scene to recreate in her latest Dubsmash.

You May Also Like...