Celebrity Wedding Crashers - 12 Times The Stars Rocked Up Uninvited To Someone's Big Day!
10 January 2017, 10:17 | Updated: 4 December 2017, 11:10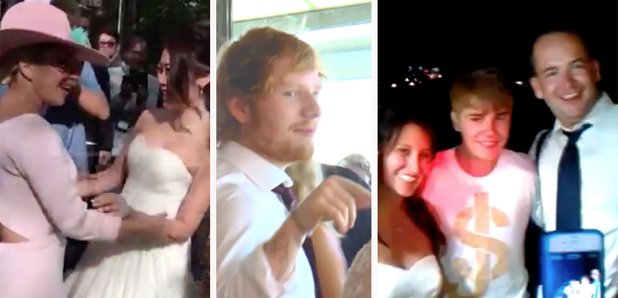 Imagine the likes of Beyonce, Justin Bieber or Ed Sheeran turning up to your big day? #WeddingGoals fo' sho.
Your wedding day is meant to be one of the best days of your life, but there's one thing that could make anyone's big day that little bit better... a surprise visit from a celebrity, of course!
Here are some of the celebs that just might pop in to a wedding near you... y'know, if they're passing.
Shawn Mendes
Weddings can be hard to buy gifts for (how many toasters does one couple really need?) but Shawn Mendes trumped everyone else when he gifted his friends a song he had written for the pair of them, even performing 'Try My Best' for their first dance! As if that wasn't emosh enough, the song was based on a love letter the groom had written for the bride. No, we're not trying, honest...
Beyonce and Jay Z
Bey and Jay Z were holidaying in Portofino in Italy when they happened to find themselves in the middle of a wedding at a local church they stopped to visit. The bride was more than happy to have some star power in her wedding pics as Beyonce happily stopped for a few snaps... in her bikini!
Olly Murs
When Katie Hart-Copsey and her hubby tied the knot and held their reception at Dereham Football Club, the last person they expected to turn up was Olly Murs, but the star was supporting the local team and popped his head in to their reception and posed for a few pics. The bride said, "It was a bit of a mad one. I had no idea that he would be there and suddenly some of guests looked out of the window and said they saw Olly Murs.
"He kissed me on both cheeks and congratulated me. He was really nice and happy to pose for photographs with the guests. I love his music so it made the day even more special that he was there." N'aww!
@ollyofficial as if on my wedding day I got to meet Olly murs this just topped the whole day off #sorryforbotheringyou #thankyouformypicture pic.twitter.com/3LKfKfEt5G

— Katie Hart-Copsey (@Shatie11) October 9, 2016
Ed Sheeran
Australian radio hosts Kyle & Jackie O managed to make a couple's dreams come true by throwing them a $60,000 wedding - and arranging for Ed Sheeran to come along and sing their chosen wedding song, 'Thinking Out Loud'. If you can make it through this video without bawling your eyes out, you're made of stronger stuff than we are!
Justin Bieber and Selena Gomez
Back in 2011, Justin and Selena were going for a walk on the beach in Malibu when they heard 'One Less Lonely Girl' being played at a beachfront wedding and decided to stop in and surprise the happy couple.
Justin Timberlake
JT was mid way through a round of golf when he stumbled upon a wedding at the same venue - so of course he let the bride and groom have some pictures!
Katy Perry and Robert Pattinson
Rather than crash the wedding, R Pattz and Katy Perry managed to crash a wedding rehearsal in California. A guest explained, "Katy and Rob were just sitting next to each other watching the wedding rehearsal in the main courtyard area. They were dressed very casually. She was wearing a hoodie and big sunglasses. There was no PDA between them and no body language that showed they were dating. They just sat together and watched."
However, it's not the only time Rob has crashed a wedding - as he also popped up at one happy couple's do in Ireland too!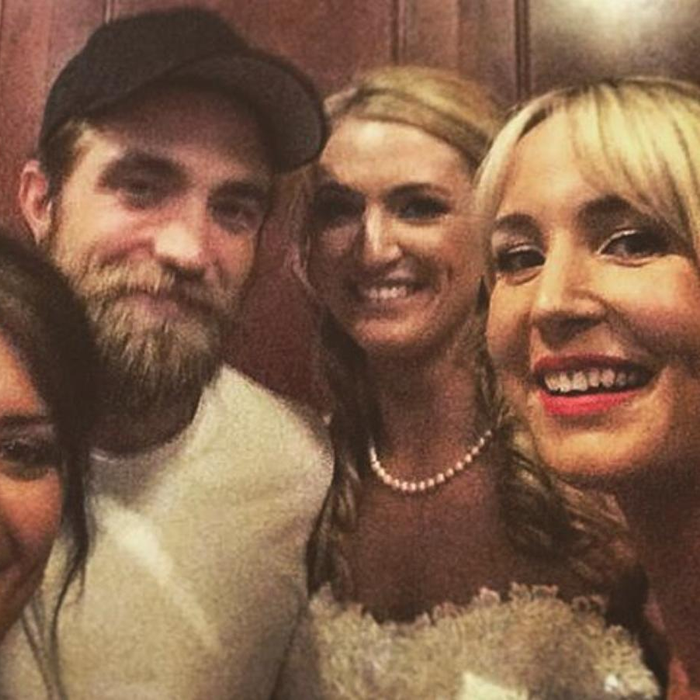 Maroon 5
For their famous 'Sugar' video, Maroon 5 arranged to surprise wedding couples all over America by turning up to their big day to perform a surprise set - and the resulting music video is also pretty emosh, especially when you know they were all real weddings too!
Brad Pitt
While shooting a movie at Pinewood Studios in the UK, Brad ended up staying at the same hotel a wedding was taking place at - and the bride just happened to be a HUGE fan of Brad's.
The bride explained, "My husband said to me Brad Pitt was at the bar and you have got to come with me so he dragged me across the hotel. I thought he was joking. He said congratulations and I hope you have had a great day and let's have a picture. And he said I looked nice. He was really nice."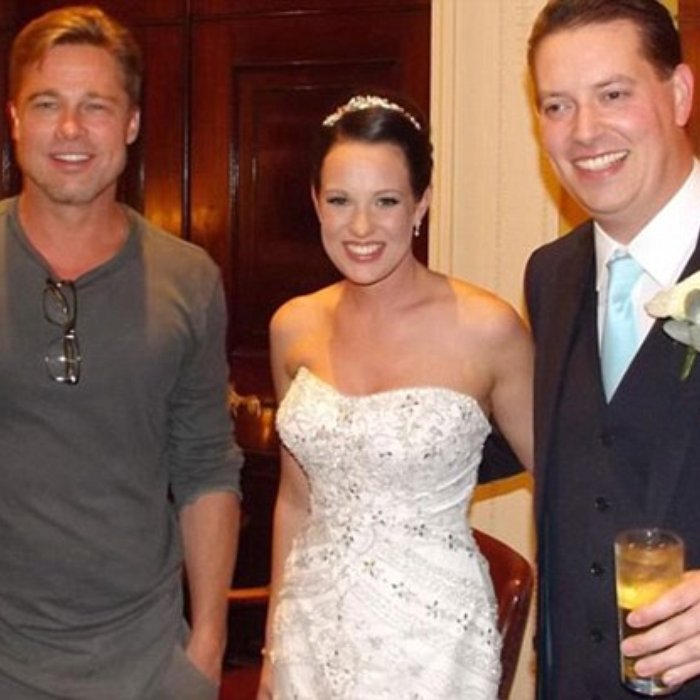 Lady Gaga
Lady Gaga was visiting Central Park in New York with a film crew when she happened upon a Japanese couple getting married. The 'Perfect Illusion' star was more than happy to make the couple's wedding pictures extra special with a guest appearance... before she hitched a ride on a stranger's bike!
Snoop Dogg
This couple getting married at Chicago's Hard Rock Hotel got more than they bargained for - when Snoop Dogg walked into the lobby! Their wedding photographer tackled Snoop's burly bodyguards to ask if he would pose for a pic with the bride and groom - and Snoop was so happy to be asked that he even took a snap for his own Instagram page too!
Taylor Swift
When Taylor Heard about a couple who had exchanged vows in the groom's mother's hospital room to the tune of her track 'Blank Space', she decided to surprise the couple at their proper ceremony... and sing for them in person!