CBB Fans Slam Jamie O'Hara For His 'Disgusting' Comments About Nicola & Betraying Bianca
23 January 2017, 11:31 | Updated: 4 December 2017, 11:10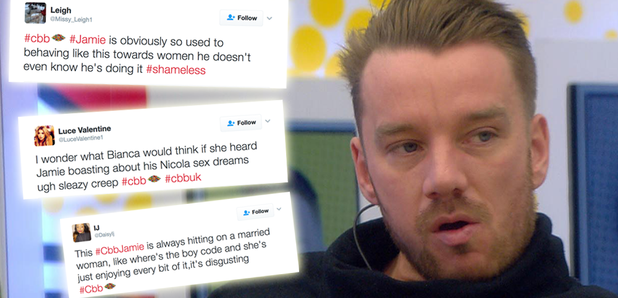 You don't want to get on the wrong side of CBB fans!
We're a few weeks in now, so the celebs in the CBB house are starting to let their guards down. Whilst many of them will have been trying to maintain a positive image of themselves so far, it's always around this point where housemates let their happy masks slip.
One person who appears to be getting a little too relaxed and familiar with his surroundings is Jamie O'Hara. The footballer revealed a little too much detail about a dream he had, which starred fellow housemate Nicola, and fans were not happy about his decision to share the graphic story.
Nicola (or Nicole if you're Kim) and Jamie were friends before they entered the house, so the pair are bound to have a closer bond with each other than with some of the other housemates. However, given the fact that Nicola is married and Jamie is friends with her husband, viewers are claiming that his recent comments are totally unacceptable.
Speaking to Coleen, James C and Nicola in the garden about his dream, Jamie claimed "I was banging Nic. I woke up like, wow!". He then went on to descibe it in more detail, much to the shock of people watching at home. Let's not forget that Jamie is supposedly looking to spark a relationship with Bianca AND Nicola is married!
The reaction to Jamie's comments have been brutal...
How can Jamie say to Nicola "he had a dream about like fully going in" and like bianca! #cbb #player #washedup

— (@ShannTJM) January 23, 2017
Jamie is such trash, my god #CBB

— Dansby Wahsby (@dannywah) January 23, 2017
Urgh, Jamie is such a vile scumbag. He's dreaming about Nicola and announces he liked the "dream". #cbb

— Kate Byrne (@FoxyFox1989) January 23, 2017
Jamie wants jas, flirts with nic, wants B then tells nic he had sex with her in his dreams.. who TF wud even tell some1 thatslime #cbb

— Samantha haggett (@samieemhxx) January 23, 2017
I take back what I said the first week, Jamie's a pig. Having a dream about your supposed friend's wife AND talking about it like that? #CBB

— Tee Mo (@teemo2006) January 23, 2017
@Charley_Beeox why tell anyone?! I can't decided what was more disturbing, Jamie telling everyone or Nicola loving it #CBB

— rawan (@Being_Loud) January 23, 2017
Whether or not Jamie had this "dream".. at what point did he think it was appropriate to say it to a married woman? #cbb

— #GetFitWithCharley (@Charley_Beeox) January 23, 2017
But after Jamie had shocked everyone with stories about his dream, he then continued to surprise viewers by having a conversation with Bianca and stating that he's not going to continue trying to get close with her as he doesn't think she should have to deal with the situation with his ex wife and 'baggage', aka his children, on the outside of the house.
Jamie's ex wife Danielle Lloyd has been fairly vocal about Jamie's actions in the house and the pair have been embroiled in a negative situation for several years now.
Picture: Channel 5
After telling her that she's an "amazing girl", Jamie told Bianca, "You wouldn't want to deal with my s**t". She seemed pretty surprised at first, especially as Jamie seems to have been the one pushing for something to happen between the pair, but after a few seconds to process the news she simply said, "I get it".
#CBB Was Jamie trying to let Bianca down gently there by getting her to agree his situation is really complicated.

— Ibrahim Banks (@TheShowOff85) January 22, 2017
Jamie seems to like Nicola. More than bianca in my opinion. #cbb #cbbbots #cbb2017

— lisa worrall (@lisaworrall) January 23, 2017
Jamie dont want bianca, its obvious he wants nicola but he can't have her because she's married #cbb

— amanda hawkins (@amandakins24) January 23, 2017
can @BiancaGascoigne just fly well away from #cbbjamie pls she can do so much better than that desperate ugly scumbag cheat! #cbbbianca #cbb pic.twitter.com/wSVsB5vJpi

— (@tracobsivanx) January 23, 2017
Even former CBB housemate Cami Li got involved...
Is it just me, or does Jamie have a massive secret crush on Nicola? #CBB

— Cami Li (@CamiLiModel) January 23, 2017
So what do you guys think? Does Bianca need to take this opportunity to run far, far away from Jamie or do you want to see them together?
What about Nicola then? Does Jamie actually have a secret crush on her or are they just really good friends?
We don't really think we could be more confused about the whole thing!
You may also like...