CBB's Jamie & Bianca Share A Moment Of Passion In The Bedroom But Fans Aren't Shipping It
24 January 2017, 14:54 | Updated: 4 December 2017, 11:10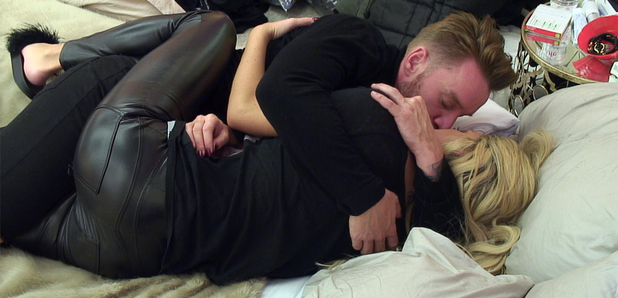 It doesn't seem like anyone actually wants them to be together...
In recent days, Jamie O'Hara has been more than vocal about his increasingly strong feelings towards his fellow CBB housemate Bianca Gascoigne.
The pair appear to be getting on really well inside the house and Jamie even claimed that he wants to take Bianca to Dubai on holiday as soon as they leave the house.
Well after all that flirting, plus a cheeky smooch off camera in the CBB toilet, 'Jamanca' finally decided it was time for some PDA whilst laying together in the bedroom and in scenes that are set to air tonight, it's claimed the pair are going to get even more steamy.
A CBB spokesman yesterday claimed, "Earlier this afternoon Jamie and Bianca enjoyed some alone time in the CBB bedroom. Either one of them could be up for nomination so they're making the most of their time together."
Picture: Channel 5
But whilst Jamie and Bianca are clearly enjoying being so close to each other and embracing their relationship within the house, it appears that fans are less than positive about it.
After all, Jamie had previously claimed that the person he most fancied in the house was evicted housemate Jasmine, whilst he also shared a few 'friendly' kisses with Nicola in the garden and revealed that he had a very NSFW dream about her...but still, it seems that Bianca is the apple of his eye atm.
Fans took to Twitter to share their distaste for the budding 'Jamanca' relationship and didn't hold back at all...
jamie actually disgusts me. like i get bad vibes from him. the showmance between him and bianca is cringey and i need one of them to go #cbb

— olenna tyrell (@jullands) January 24, 2017
Bianca is stupid. Jamie obviously has a soft spot for Nicola n she still don't tell him to piss off #cbb #cbbbots #cbb2017

— lisa worrall (@lisaworrall) January 24, 2017
It would be nice if #CBB showed Bianca the clip of Jamie's dream of sex with Nicole, including thumb trick! Only seems fair

— Bri Meads (@Bri_Meads) January 24, 2017
Bianca should also note that's is pretty clear that Jamie has an interest in Nicola.. Such a #CBB

— Shurreen Miles (@Shurreen) January 24, 2017
Wait till bianca sees what jamie said to nicola the other day... I dreamt I was having sex with you... Be awkward #CBB

— Mike (@mikepriestley13) January 24, 2017
Get Jamie out of the Celebrity Big Brother house. He doesn't respect woman. He just wants Bianca for air time. #User #CBB

— Jason Adams™ (@jasonadamsss) January 24, 2017
I find it so cringy watching jamie and bianca she is notttt feeling him #cbb

— Bee suv steed (@BiancaSunderlan) January 24, 2017
With Jamie up for eviction this week, the pair could be split up pretty soon, so we may be rid of this relationship before it's even properly begun!
You may also like...