12 Celebs Who Are TOTAL Fitness Goals For 2017
3 January 2017, 17:16 | Updated: 4 December 2017, 11:10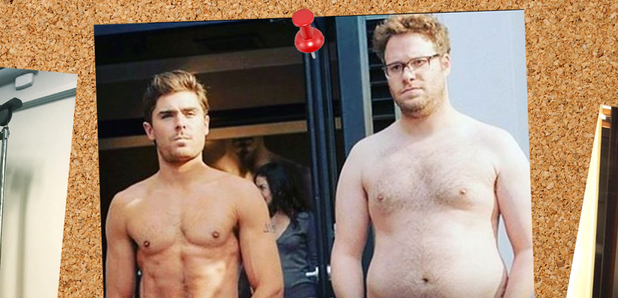 Looking for some extra fitness inspiration to get in shape this year? Look no further than these celeb hotties...
Every year, millions of people around the world make New Year's Resolutions.
For many of those people, getting fit and being healthy will undoubtedly be one of them, but that can often be harder to achieve and even more difficult to maintain than most.
So here are some of the celebs that are giving us ALL the fitness inspiration that will have us rocking a buff bod in no time...
Jason Derulo
Performing around the world to packed out crowds means Mr Derulo has got to be pretty fit and from the looks of those muscles, he clearly works out very hard.
Gigi Hadid
When it comes to women who can do both, Gigi Hadid is the one. She looks flawless on the runway and during shoots but she also bosses it in the gym - how much more inspirational could this woman be?
Ellie Goulding
Ellie's a regular in the gym all year round and is always giving us insights into her training regime via her Instagram. There aren't many celebs who go harder when it comes to fitness, so we'll be aiming to follow in your footsteps Ellie!
Shawn Mendes
When it comes to keeping in shape, Shawn Mendes is not a celeb who shouts about it online. But from the pictures that he shares, it's easy to see that he looks after himself and manages to hit the gym whilst on tour. Just check out this toned snap of the Canadian singer and his surfer friends...
Joe Jonas
When you've been in the public eye for so long, people can often take you for granted. So let's not forget how incredible Joe Jonas' body is people! His fitness routine clearly keeps him in amazing shape and we're not complaining.
Beyoncé
She's got her own fitness clothing range and she's looked simply incredible for years, so it's no surprise that Queen B is total gym inspiration. We're not sure what exactly this move is though, but if it works for Beyoncé...
Khloe Kardashian
Whatever you do in the gym, putting in 100% effort is the best way to get results and one person who smashes it every single time is Khloe Kardadashian. Check out this video of the star working out on New Years Eve - that's what you call dedication!
Gaz Beadle
Talk about fitness goals 24/7 - Gaz Beadle is never too shy to get his bod out and showcase all the effort he's put in at the gym. Let's hope he carries on with that in 2017.
Brooklyn Beckham
When he's not busy snapping pictures for his latest photography campaign or skating around the streets of London, Brooklyn Beckham is an avid gym goer. When you're dad was the England football captain and one of the fittest players around, Brooklyn's got all the inspiration he needs at home!
James McVey (The Vamps)
He's part of one of the world's hottest bands, but when he's not performing or in the studio creating incredible music, The Vamps' James McVey is hitting the gym. Just check out his guns in this video...
Taylor Lautner
He's famous for his roles on the big screen and more recently for shows like Scream Queens, but Taylor Lautner is not all about his acting. He's been ripped AF since he was about 10 years old from the looks of this pic (yep he is the one on the left, we know)!
Zac Efron
When you're constantly flying all around the world to appear in different films, it must mess your sleep pattern up a bit. Well Zac Efron is a self confessed member of #TeamNoSleep and it appears that when he can't sleep, he works out. It shows Zac, it shows...
You may also like...