Caitlyn Jenner's First Post Since Kylie Gave Birth Proves There's No Feud Between The Two
6 February 2018, 13:58 | Updated: 6 February 2018, 14:00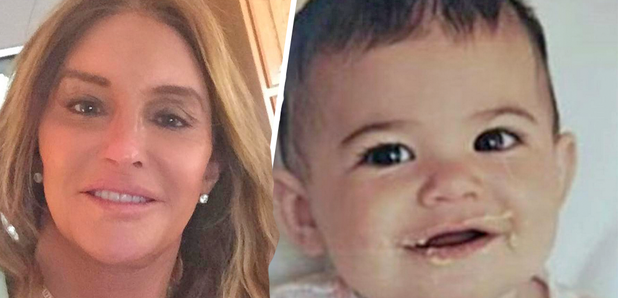 Fans were wondering why Caitlyn wasn't featured in Kylie's pregnancy video.
Kylie Jenner's pregnancy was the worst kept secret ever. We're pretty impressed that she managed to go nine months and only be photographed a handful of times, but we all knew there was a baby on the way as her family awkwardly dodged questions about the whole thing.
One of those family members was Kylie's dad Caitlyn Jenner and after staying silent on the pregnancy for months, she's now shared her thoughts for the very first time.
> Never Seen Before Pictures From Kylie Jenner's Pregnancy That You Need To See

There had been plenty of speculation online that Kylie and Caitlyn weren't as close as they used to be and many thought there was bad blood between the two, especially when Caitlyn wasn't spotted in Kylie's emotional pregnancy video.
But following the birth Caitlyn took to Instagram and shared the below snap of baby Kylie, captioning the image 'My daughter just had a daughter. It's amazing to be by your side through this journey. She's SO beautiful already. Can't wait to watch her grow. Throwback to my baby, as a baby @kyliejenner'.
So despite what many people believed, Caitlyn was indeed supporting Kylie throughout the pregnancy and has already visited her daughter and met her grandaughter for the first time.
Caitlyn's relationship with Kylie's sisters Kim, Kourtney and Khloe Kardashian had gone downhill since her gender reassignment and in a previous interview with Piers Morgan Caitlyn explained, "It's not even a problem, I just don't communicate with them like I used to."
"Yeah, I really don't talk to them anymore. The only ones I'm really concerned about are Kendall and Kylie, yeah they are biological kids. Although the Kardashians, I spent 23 years of my life carpooling those kids around, raising them, taking care of them."

(GIF: Giphy)
We're yet to find out what Kylie and her boyfriend Travis Scott have decided to name their newborn daughter, but we've got a feeling Khloe Kardashian has given us a bit of a hint with the flowers she bought Kylie following the birth!
> Download Our Fancy New App For All The Latest On Kylie's Baby!
Whilst you're here, remind yourself of the epic moment Travis Scott fell down a hole on stage at Drake's show...