Stop What You're Doing - Because McDonald's Are Giving Away Their Secret Big Mac Sauce!
26 January 2017, 11:43 | Updated: 4 December 2017, 11:10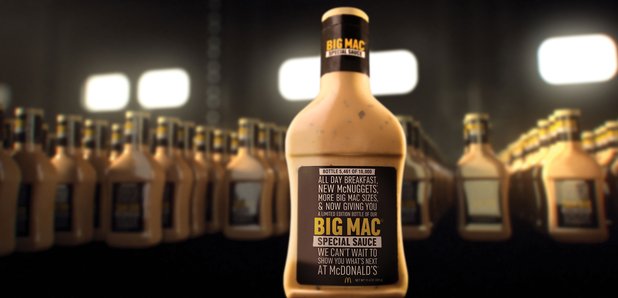 This. Is. Not. A. Drill.
Along with the Colonel's special blend of 11 secret herbs and spices, McDonald's' Big Mac sauce recipe is one of the holy grails of the food industry.
Try as you might, but no ratio of ketchup and mayo can equal that golden nectar that you can only find in the Golden Arches.
Woke up to a bottle of Limited Edition Big Mac sauce in the mail. 1 of 10,000 made. Viva la McVida @McDonalds pic.twitter.com/xzqIlICIfo

— Zweniel (@ZwebackHD) January 25, 2017
Well, it looks like that's about to change. McDonald's are giving out bottles of its incredible sauce for FREE!
> That Diamond-Shaped Leather Patch On Your Backpack Has A SUPER Useful Purpose!
Okay, so there are some bad sides to this story too... Firstly, it's only available in the States (for now...) and, even more worryingly, it's limited to just 10,000 bottles!
If you can't take the time off to fly across the Atlantic for a bottle but are still DESPERATE to make a Big Mac at home, don't worry... The last time Maccy's gave these bottle away, one went on eBay for a whopping £65,900! (that's the equivalent of 21,966 Big Macs!)
Okay, so how about something a little more overdraft-friendly? Turns out you CAN make (a pretty decent attempt) at making your own version of McD's sauce at home!
You May Also Like...