This Video Of Brooklyn Beckham And A Frying Pan Will Make You LOVE Him Even More
13 July 2016, 16:18 | Updated: 4 December 2017, 11:10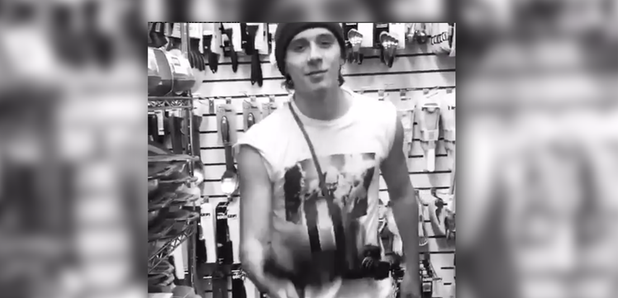 Brooklyn Beckham is usually behind the camera, but not this time.
Whilst he's known for his photography, football and skateboard abilities, he's now showcased yet another skill…as a dancer!
The 17-year-old posted a video of himself throwing some shapes to his Instagram alongside the tongue in cheek caption 'No caption needed'.
The track which Brooklyn is clearly enjoying in the video was one of the biggest songs of the moment, Justin Timberlake's 'Can't Stop The Feeling' and he seemed to LOVE it.
With some seriously stylish moves, the oldest son of David and Victoria Beckham really showcases his fancy footwork and he's obviously perfected that slide!
The fact that the aspiring photographer has decided to flaunt his dance moves in the homewares section of a shop amongst the kitchenware makes this vid even more amazing.
Despite having a frying pan in hand, Brooklyn still manages to maintain levels of cool that we can only dream of and we love his cheeky look towards the camera at the end.
Brooklyn has clearly picked up some moves from his mum, so maybe after seeing this JT will give him a call to appear in his next music video? Well we can dream eh!
This new video comes days after Brooklyn's girlfriend Chloe Grace Moretz posted a monochrome photo of her beau looking like a total HUNK with his trusty camera in hand.
She accompanied the Instagram post with the adorable caption 'Hey @brooklynbeckham ... Idk who your girlfriend is, but she's pretty lucky huh?..' - awwwww!
Talking about Brooklyn, Chloe recently told Elle, 'My boyfriend is a huge support."
"I mean, don't get me wrong, I don't need a man for anything, but when I'm feeling bad about myself, he's like, 'Stop'. Look at what you say in interviews. Look at what you stand for. Listen to your own words, because you're as beautiful as you say you are! I like you more in sweatpants than I do when you're on a red carpet".
The pair have been pretty inseperable since they officially started dating back in April and we think they're literally THE definition of #RelationshipGoals right now.