WATCH: Blac Chyna & Rob Kardashian Have A HUGE Row… And He Even Moved Out!
5 September 2016, 15:06 | Updated: 4 December 2017, 11:10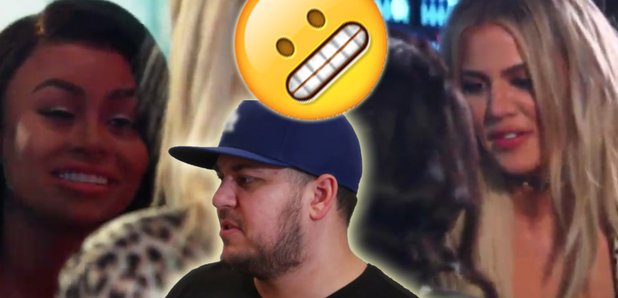 PLUS see the moment Chyna and Khloe Kardashian come face to face for the first time…
There's rarely a day that goes by without some kind of Kardashian drama… and new scenes from Keeping Up With The Kardashians have revealed that Rob Kardashian and Blac Chyna had a row so big he ended up moving out of their house!
Yep, they might be expecting a baby together, but things got so extreme in one of Chyna and Rob's rows that he ended up leaving their home and wasn't answering the phone to his baby mama.
In a recorded phone conversation with Khloe Kardashian, Rob admitted, "I'm out of her house and we're not living together. I honestly I'm so over it. If I don't care then that's exactly where she wants me to be and I'm completely content with that. And I'm just preparing myself."
As well as Rob not speaking to Chyna, the family were obviously worried what impact their separation would have on Rob seeing his child once it has been born – though thankfully it seems the couple have since ironed out their differences.
In another clip, we also got to see the moment Chy and Khloe came face to face – after some pretty heated words had previously been exchanged by the pair – and it actually makes for pretty sweet viewing, as Chyna thanked Khloe for inviting her to the party at all.