Despite The Rumours, Rob Kardashian Confirms He & Blac Chyna Have NOT Split Up
7 March 2016, 09:31 | Updated: 4 December 2017, 11:10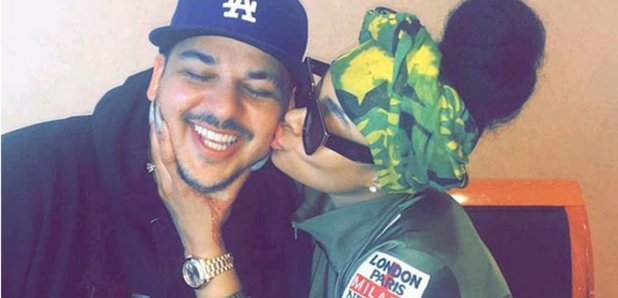 Rob took to Instagram to confirm that he and Chyna are very much together – but they're keeping their relationship on the down low for now.
We can barely keep up with Rob Kardashian and Blac Chyna's relationship - one minute they're moving in together, the next they're reported to have broken up - but Rob's taken to Instagram to reveal what's REALLY going on.
After Rob and Chyna deleted all the photos of them together from their social media accounts, and Kylie Jenner was posting about how much she was loving life everyone assumed the couple had broken up. The fact that Chyna also posted a meme reading "When you just get out of a relationship and your h** friend welcomes you back into the World Of H**" probably didn't help either...
Thanking God today for all my blessings. Life is so amazing.

— Kylie Jenner (@KylieJenner) March 6, 2016
Put out good vibes and energy and you will receive!

— Kylie Jenner (@KylieJenner) March 6, 2016
I love life

— Kylie Jenner (@KylieJenner) March 6, 2016
However, Rob was quick to assure his fans that he and Chyna were very much still a thing, posting a photo of him kissing her cheek with the caption, "Chy and I are not broken up we just feel like it would be a lot healthier for our relationship if we kept a lot more to ourselves. It's impossible to have a positive relationship with so much negativity from the media and outsiders and we would appreciate it if everyone respects that -ChyRo"
This comes just after rumours surfaced that after only two months of dating - Rob Kardashian and Blac Chyna are moving in together!
The reality star and his new beau went public with their new romance back in January - sending SHOCKWAVES through the Kardashian household in the process - and now it seems things are going so well they're ready to take the next step!
Fresh rumours claim Blac Chyna's been helping her man not ONLY lose weight and sort out his diet, but also decorating and planning for the new house, a $2.3m Calabasas property he's believed to have purchased.
"Chyna has been helping Rob with the house," a source told E! News this week. "She pretty much will be living there conceit is up and running.
"They have both discussed moving in with each other," the source added. "They feel this is a fresh house and a fresh start for them. Rob is letting her take control of whatever she wants, she is his queen.
"She is helping with the decorating and the new pieces in the home. They haven't moved in yet, but will very soon."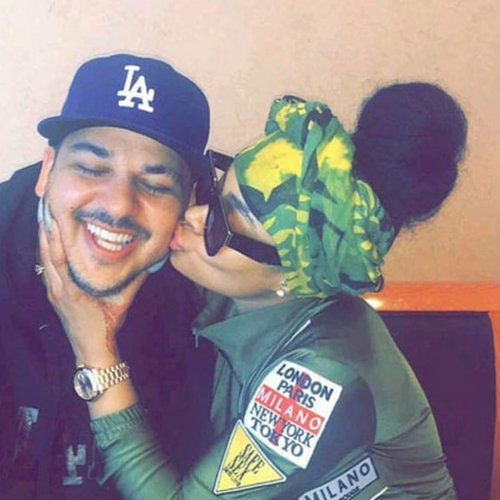 Last month, Rob went ALL OUT for their first Valentine's Day together, lavishing Chyna with a RIDONKULOUS bouquet of roses as well as a giant painting... complete with the lyrics to 'their' song included in the paint. Cute.
Rob gifted Chyna the specially commissioned painting which is of her with pink hair, and silver script all over - and she seemed pretty chuffed with her gift!
No, but seriously - the painting is effing HUGE. We're not sure we'd even have a wall big enough for this, TBH.
It's not been plain sailing for Rob and Blac Chyna since their whirlwind romance began - his family have not been that keen on the pair of them dating after Kylie Jenner and Kourtney Kardashian's run ins with the star.
Following claims Khloe Kardashian chucked Rob out of her house over his relationship with Chyna, a source claimed Khloe is disappointed with her brother's recent behaviour. They told Us Weekly, "Khloe feels majorly betrayed by Rob after she always stuck up for him. She feels like this is a major blow to the family. Nobody in the family likes it.
"Kylie says Rob stabbed her in the back. This is not about Kylie for Rob, though. He was always cool with Kendall and Kylie. For him this is about the whole family and his way at getting back at them."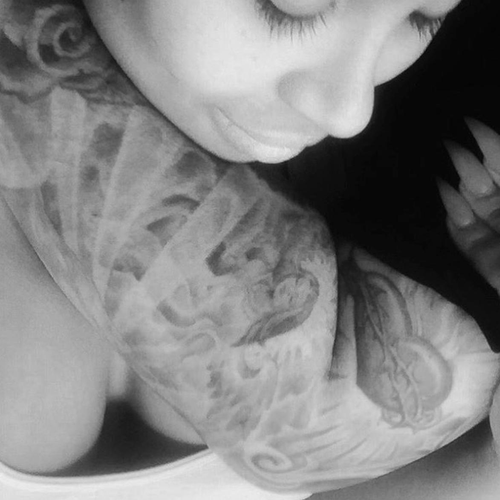 Rob Kardashian and Blac Chyna made headlines in February after seemingly going public with a brand new romance, and they were even spotted out taking a drive together near her home in Los Angeles.
However, considering Blac is the ex-girlfriend of Kylie Jenner's boyfriend Tyga, it said to be causing a LOT of strife behind closed doors for the family.
"Rob likes her and seems to think it's mutual. It's just hard to take things seriously since obviously both share a lot of anger towards the [Kardashian-Jenner] girls," a source told People this week. "They both had a lot of drama with Kim."
Since news of the romance broke, a report has emerged claiming Rob's been staying at his new lady's house for the past week or so… with rumours claiming it's more because sister Khloe has kicked him out of her house out of "tough love"!
TMZ claims Khloe arrived home from a trip and found Rob and Blac in her house, asking her, "What the f**k are you doing in my house" before telling them flatly to "get the hell out".
So while the Kardashian sisters are said to be LIVID - mostly due to long-standing animosity between Kylie and Blac - Tyga himself seems to be more calm about the whole affair!
When E! News asked for comment from the rapper he simply said: "Everyone deserves to be happy". Nawww, Tyga you're breaking our hearts here!
It seems Chyna is good for Rob, however, as a source told E! News, "[Rob's been] taking better care of himself since his health scare. She makes him feel really good and sexy. She gives him a lot of sexual attention. Blac Chyna was friendly with Rob when she was good friends with the Kardashians, Rob always thought she was pretty hot."
Earlier this month, Chyna's friend Amber Rose almost caused herself a MASSIVE headache after deciding it was the perfect time to start following Kourtney Kardashian's estranged husband Scott Disick on Instagram, which of course did NOT go unnoticed.
After the storm it caused on Twitter she VERY quickly tried to clean things up, posting: "i'm not following anyone to be corny or start trouble, that's not me. I'm simply just a fan of his. 2016 is positive vibes."
You may also like...