Blac Chyna Speaks Out In Tell-All First Interview Since Rob Kardashian Leaking Her Nudes
10 July 2017, 16:12 | Updated: 4 December 2017, 11:10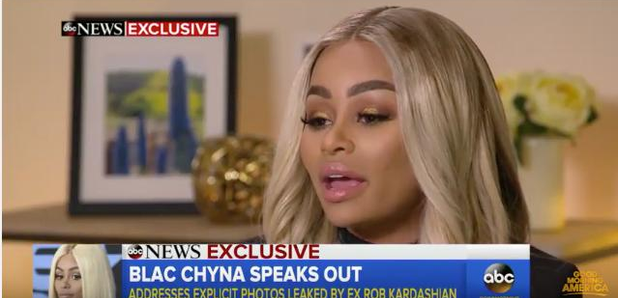 Chyna reveals all about how she felt following Rob's Instagram rant.
It was one of last week's most dramatic moments, and Blac Chyna has finally had her say on Rob Kardashian's Instagram rant where he repeatedly posted nude photos of her online.
Speaking about how she felt about the pictures being posted and whether she 'liked' some of them, Chyna told good Morning America, "I was devastated of course, I'm like how could somebody post these pictures of me. Like wow, this is a person I trusted, I just felt betrayed. I didn't 'like' none of the photos, I actually have Robert Kardashian blocked from my Instagram "
She also explained why she is going down the legal route to get a restraining order against her ex, "I've talked to Rob about everything and the moral of the story is he doesn't respect me and if you can't respect me then you have to respect the law."
Another bone of contention between her and Rob and his family is whether she was using him to boost her own profile and whether she had deliberately go pregnant with Dream in order to spite her ex, Tyga, who was dating Rob's little sister, Kylie Jenner.
She denied it, saying, "No, first of all that's not even my character, and I see all these things on the internet and I never address it because I am the bigger person, Robert came at me.
"I was already Blac Chyna before the Kardashians. I am Angela White, I am Blac Chyna, I can do whatever I want, it's my body. Nobody was out to make a baby out of spite."
Chy also revealed how she came to send the video of her kissing another man in their bed to Rob, revealing, "I've been broken up with Rob since December and it's like if somebody keeps poking at you and poking at you, eventually you're going to pop. So I was like, maybe if I send this video to him then he'll just leave me alone."
As well as seeking a restraining order against her ex, Chyna also wanted to speak out to raise awareness about revenge porn and reassure other girls who might find themselves in the same position after a break up.
She explained, "I would like to just say something to all the women out there, you know you're not the only one who's probably going through something so I feel as though if one person speaks up, hopefully it will be a domino effect."
The rest of the interview is set to air this evening on Nightline – we're sure Chyna has a lot more to let off her chest!