The BET Awards 2015: 15 Most Talked About Moments
29 June 2015, 10:29 | Updated: 4 December 2017, 11:10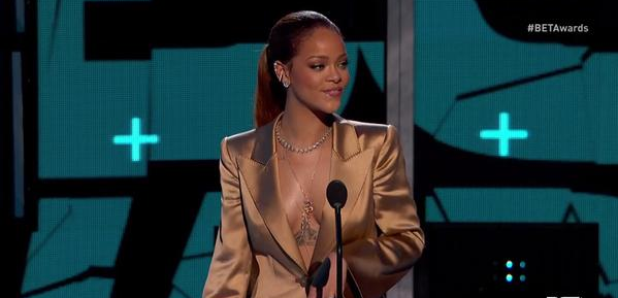 From Rihanna's duct tape prank to Nicki Minaj and Meek Mill's performance together; the 15 moments you NEED to see from the BET Awards.
It was another huge year at the BET Awards, with coverage dominating the tops trends all morning - and we've got all the best moments right here:
1. P Diddy falling down a huge hole in the middle of the stage. Someone's getting fired for this one!
There's no styling this out, Diddy.
2. Rihanna brought along some props from her S&M video...
And taped the guy to her right, #jokes!
3. Watch, RiRi then goes and throws money in this guy's face. SASSIEST. THING. EVER!
*Checks coins purse and tries to recreate this...
#GoodGirlGoneBad gone good... It'd seem RiRi's still a good girl deep down though as she kisses and makes friends.
4. The cast of Empire slayed with their performance and managed to get Nicki Minaj singing along!
It's like a WAY cooler Glee.
5. Before becoming a Twitter trend, P Diddy took to Instagram to debate which Kanye kicks to rock on stage, #redthough.
If only those trainers had a lights on them, ey Diddy?!
7. Goats made their way on stage! Because it wouldn't be an awards show without a goat.
This is NEARLY as good as Taylor Swift's 'Bad Blood' goat remix.
8. Cutest moment of the show went to Nicki Minaj and Meek Mill for this PDA.
9. Chris Brown performed 'Ayo' with Tyga and made things super sexy!
Was that Rihanna we caught singing along in the crowd?
10. Nicki Minaj being so psyched to win her award she completely forgot what it was for...
AWKS.
11. Meek Mill introduced his lady to the stage and left Chris Brown third wheeling...
Smashed it!
12. Newcomer Tori Kelly stole the show and sent Twitter crazy with her performance of Jackson 5's 'Who's Loving You'.
Tori Kelly is the best singer on the planet! Period!

— #UglyGang (@_RandyWatson) June 29, 2015
No shade tori Kelly had the vocals of the night

— PrinceOfTamartians (@_BoobieVsJagger) June 29, 2015
13. Oh hey! Alicia Keys came out and surprised us all with her performance of 'Earned It' alongside The Weeknd.
#Sneaky.
14. Sam Smith received stick for not showing up to the awards show after winning 'Best New Artist'.
*disclaimer: this is NOT Sam Smith, we know, the resemblance IS uncanny however.
Despite a few choice words, Sam Smith managed to see the funny side, posting this to his Instagram:
14. Rihanna shut everything down as she previewed a extended trailer from her BBHMM video!
The full video drops on Thursday and we are SOOO ready.
15. Janet Jackson received the Ultimate Icon award with Jason Derulo, Ciara and Tinashe paying tribute in this epic stage performance:
WE LOVE YOU @JanetJackson #FFR #BETAwards2015 pic.twitter.com/eKNebu4UPo

— Fab Fashion Report (@FabFashReport) June 29, 2015
You May Also Like...