Trending: The 12 BEST Viral Videos Of 2014
3 December 2014, 16:04 | Updated: 4 December 2017, 11:10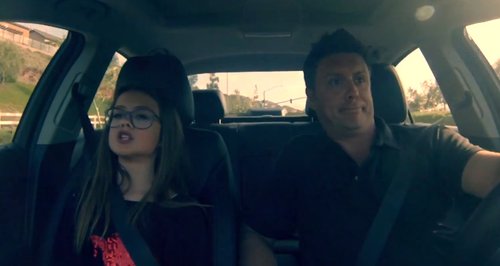 We've had our sides split and our minds blown by some of this year's viral videos - here are our 12 absolute favourites!
The BEST In-Car Celebrity Impressions
From Miley Cyrus and Taylor Swift, to Kim Kardashian and Ellen Degeneres, this woman absolutely NAILS these hilarious celebrity impressions! The fact that she can do them whilst driving has us even more impressed!
Taylor Swift's Time-Travelling 'Shake It Off' Video
Tay Tay's surprise hit from new '1989' album blew our minds when it dropped late this year. What sent us in to a meltdown, was how well it fitted on an aerobics video from the 1980s! Just... WOW!
Plus The Daddy/Daughter Dance-Off!
2014 may be remembered as the year of the 'booty', but we'll never forget how YouTube exploded with the cutest dads and daughters posting dancing videos! This gem for Taylor's 'Shake It Off' is one of our faves. Awww!
Kiesza's Crazy Russian Parody
When 'Hideaway' dropped in March, we were mesmerised by Kiesza's dance moves! Obviously our love crossed borders all the way to Russia! These Russian farmers (and a chicken) recreating the video had us in stitches!
"Ew" With Taylor Swift...
It's Taylor Swift dressed as a 12-year-old nerd with an amazing catchprase - "Ew!" - what's not to love?
Posh Schoolboys Do Shakira
We imagine this is EXACTLY what Glee would look like if it was set in Oxford!
There's No 'Problem' With This Daddy/Daughter Dance-Off
The very first inter-family dance to hit our radar this year, and still one of our faves! This dad and daughter combo showing off their moves to Ariana Grande's huge hit is a must-see!
Drake, Is That You?
Two words for you... 'Fake Drake'. (You're welcome!)
Oh Wait, There's Drake! He's On The Tube!
So after all that, it turns out this bloke who forgot where he was when he started singing was ACTUALLY Drake... (okay not really, but it is HILARIOUS!)
The Kid That Can Sing 'Frozen' Better Than You!
'Frozen' has been undoubtedly a runaway success in 2014, and we've lost count of the number of 'Let It Go' covers on YouTube (last time we checked it was about 407 billion) - but we'll never forget the cute girl in the car who sings with her daddy. SO CUTE!
The Britney Parody That Took Some Serious Work (B***h!)
Some people love Britney, really REALLY love Britney! Then there are people who edit themselves frame-by-frame into her music videos. This guy is the latter...
The BEST Lip-Sync Of The Year
This daddy-daughter lip sync of Iggy Azalea's 'Fancy' broke the mould - it might not have been the first in-car mime-a-long, but it was one of the first that involved a parent NOT singing 'Let It Go'!
You May Also Like...