The 10 Best Capital Live Session Covers Of 2014
22 December 2014, 13:30 | Updated: 4 December 2017, 11:10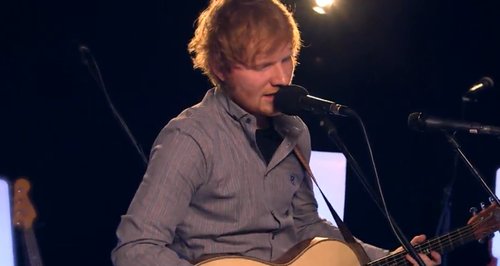 2014 was an INCREDIBLE year for our Capital Live Sessions!
Some of the world's BIGGEST artists have walked through our doors and performed exclusive covers for us.
From UK popstars covering Aussie rockers, to American soul artists covering British songwriters, we've seen it all!
Here are our favourite covers from the past 12 months (warning: some of them may leave you needing a tissue!)
Jessie J - 'Stay With Me'
Global's first ever Make Some Noise day took place in October, and saw some big names (with bigger voices!) dropping by to help us raise money to change young lives. The first entry on our list comes from powerhouse vocalist Jessie J!
She clearly agrees with us that Sam Smith was one of the best new artists of 2014, by covering his massive Big Top 40 number 1 hit 'Stay With Me'.
Demi Lovato - 'Give Me Love'
It was one of our first Capital Live Sessions of the year, and was the first to almost break the Internet!
When US superstar Demi Lovato stopped by at Capital HQ earlier this year, she treated us to her own take of Ed Sheeran's classic 'Give Me Love'.
Lovatics around the world went insane - just watch it and you'll realise why!
Ed Sheeran - 'She Looks So Perfect'
Ed Sheeran is the best selling artist of 2014. 5 Seconds of Summer are the biggest new act of 2014.
SURELY putting the two together will be insanely good?
Well, 'insanely good' is an understatement - not only did Ed's cover of the boys' debut track trend worldwide on Twitter, it almost broke the Internet!
Sam Smith - 'When I Was Your Man'
2014 was DEFINITELY a great year for Sam Smith!
'In The Lonely Hour' became the fastest selling debut album in the UK, he was Critics' Choice at the BRIT Awards and he's been dominating the Vodafone Big Top 40 chart!
So when Sam Smith stopped by Capital HQ, we couldn't resist getting him to do a Capital Live Session!
In true Sam Smith style, he moved us close to tears with his cover of Bruno Mars' 'When I Was Your Man'
Ella Henderson - 'I'm Not The Only One'
Jessie J wasn't the only female vocalist to have a go at covering one of Sam's hits!
During Global's Make Some Noise Day, Ella Henderson stopped by to cover the beautiful 'I'm Not The Only One'.
The result? Absolute perfection!
The Vamps - 'Rude'
One of the surprise hits of the summer came from MAGIC! - their reggae hit 'Rude' went straight to the top of the Vodafone Big Top 40, and the lads from The Vamps were clearly fans too!
During their Capital Live Session, Brad, Connor, James and Tristan treated us to their rockier version of the hit.
OneRepublic - 'What A Wonderful World'
Not content with just performing in front of 16,000 at Capital's Jingle Bell Ball with Morrisons, Ryan Tedder & co also treated us to an exclusive Capital Live Session!
During their trip to Capital HQ, they got us feeling all festive with a cover of Christmas classic 'What A Wonderful World'.
Boy did they do Louis Armstrong's track justice!
Olly Murs - 'Ready For Your Love'
Gorgon City's 'Ready For Your Love' was one of our favourite dance tracks of summer 2014!
Clearly Olly Murs was a fan too, covering the track during his Capital Live Session!
Ella Eyre - 'Good Luck'
It's not just modern hits that our guests love to cover during their Capital Live Sessions!
When Ella Eyre stopped by earlier in 2014, we were delighted to hear her take on a real classic!
Basement Jaxx originally released 'Good Luck' in 2003, but Ella really managed to breathe some new life into it 11 years later!
Shift K3y - 'U Remind Me'
After scoring his first number 1 on the Vodafone Big Top 40 with 'Touch', Shift K3y stopped by Capital with his trusty keyboard to perform a live session.
Not just content with performing his own hit, the producer slowed things right down with a classic slow jam - Usher's 'U Remind Me'!
You May Also Like...