10 Of The Best Lip Sync Battle Moments That You Have To Re-Watch Right Now
27 March 2018, 12:16 | Updated: 27 March 2018, 12:18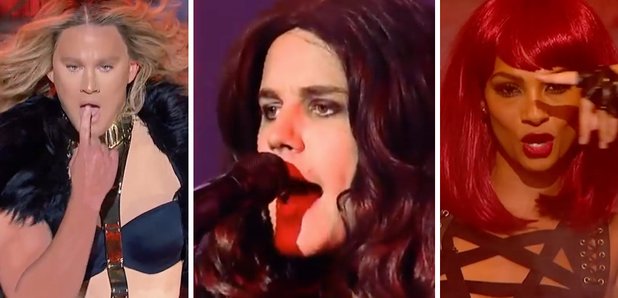 From Justin Bieber dressing up as Ozzy Osbourne, to an excellent Taylor Swift parody - here are all the Lip Sync Battles you NEED to see again!
Some of the world's biggest celebrities donning wigs and costumes and taking on the persona of other celebrities is one of our favourite things... so it's just as well that Lip Sync Battle UK is returning to our screens!
To celebrate Lip Sync Battle UK returning to Channel 5 this Friday (6th January) at 10pm, we've rounded up the best ones you NEED to see right now!
Justin Bieber as Ozzy Osbourne
Who knew JB had this hilarious rendition of 'Crazy Train' in him? And is it weird we still totally fancy him with that wig and nail polish?!
Alesha Dixon as Taylor Swift
In the UK version of the show, Alesha took on Taylor Swift's 'Bad Blood' - and we're pretty sure it's one of our fave T-Swiz take-offs, ever!
Jenna Dewan as Channing Tatum in Magic Mike
Jenna showed her other half that he wasn't the only one to have some SERIOUS stripper-style moves... as she took on his iconic character as they went head to head.
Channing Tatum as Beyonce
Donning a crop top and a VERY fetching wig, Channing did his best Beyonce booty shake... and we were seriously impressed when he was joined by ACTUAL Beyonce!
Charli XCX perfecting the 'Shape Of You' as Ed Sheeran.
1. Charli XCX is a complete bae. 2. Ed Sheeran is THE man. 3. Add them together and you get this moment of brilliance.
Comedian Katherine Ryan taking on Justin Bieber's 'Sorry'
Recreating the iconic dance video for Justin's 'Sorry'. Katherine had ALL the moves down pat.
Gigi Hadid doing 'Backstreet's Back'
Donning a tight leather catsuit, Gigi looked every inch the pop princess as she took on this classic '90s hit... and was joined on stage by the band themselves.
Anne Hathaway as Miley Cyrus
'Wrecking Ball' and everything, Anne did a VERY convincing impression of Miley!
Eva Longoria as Nicki Minaj
Complete with the little pink weights and a padded out booty - we reckon Eva makes a VERY good Nicki!
David Walliams as Adele
Donning Adele's furry coat and her flip phone, David took on 'Hello' - extra points for the leaves and the fan!