19 DJs Who Wear Incredible Masks Better Than Any Superhero
8 March 2018, 11:47 | Updated: 8 March 2018, 12:10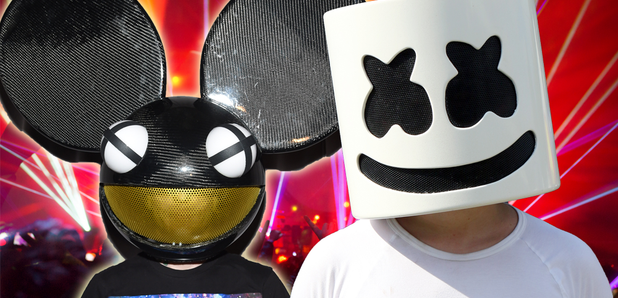 We all know that Daft Punk are two of the biggest mask-wearing EDM stars around, but it there are plenty more masked DJs you need to know about!
Everyone knows the likes of Spiderman and Wonderwoman. They don their costumes and head out to save the world day in day out- but what about this band of mask-wearing musicians who attempt to save the world every day through their music?
Well those legends exist and we've knocked together a list of the most iconic members of this secretive group...
> 9 Hacks & Tips Guaranteed To Secure You Those In Demand Concert Tickets
Daft Punk
When it comes to DJ's who wear masks, these guys are pretty much the kings, we all know that.
They're known across the world for their futuristic masks, but it also helps that they make some of the biggest tunes around too! Their recent woldwide smash hit tunes with The Weeknd were awesome, but just try telling us you weren't toally in love with 'Get Lucky'!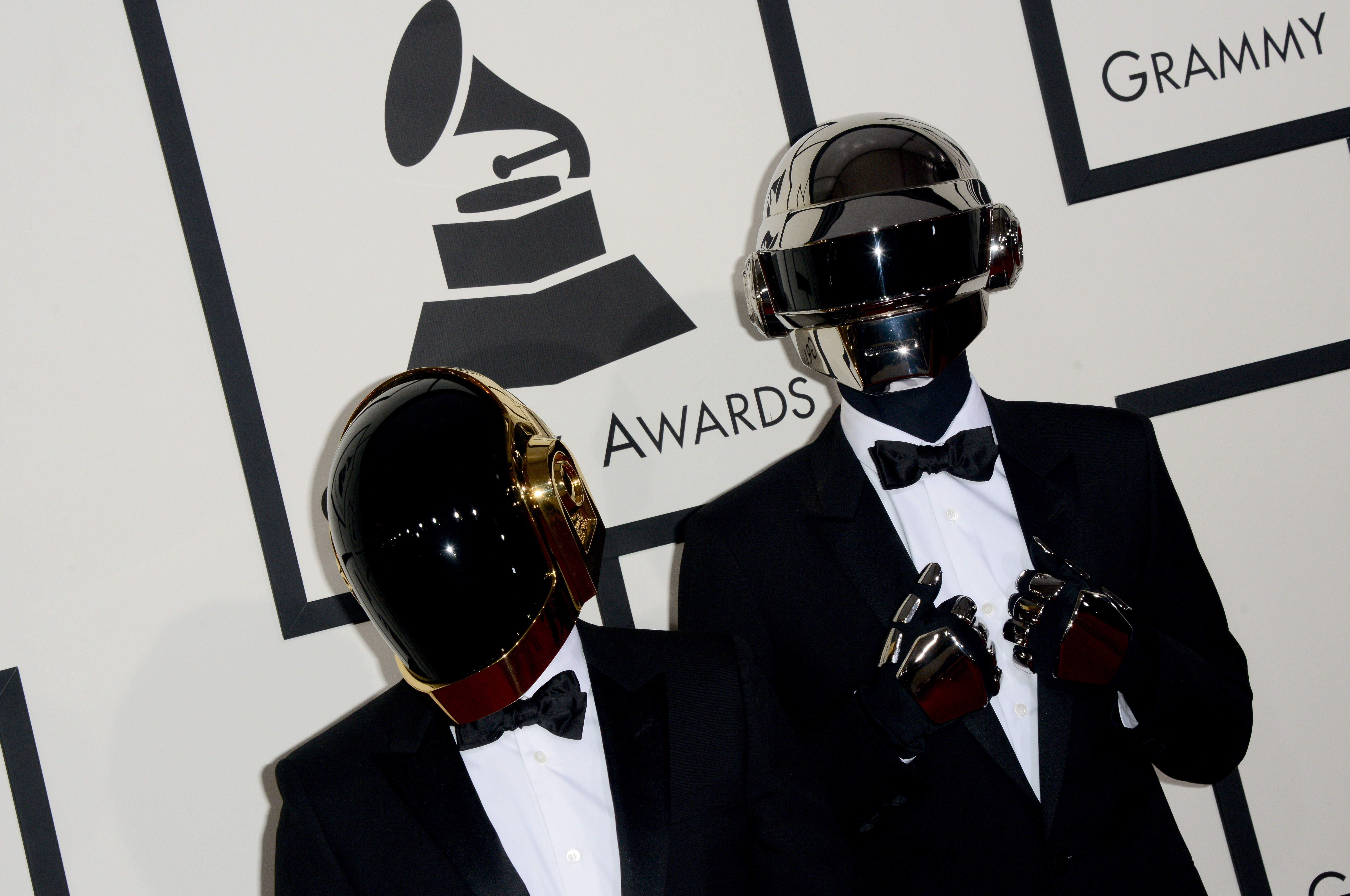 (Pic: PA)
Marshmello
He's remixed Calvin Harris and Ariana Grande, whilst his latest single 'Friends' with Anne-Marie is dominating the charts across the world, but although his mask is hugely recognisable, Marshmello's true identity is so far unknown.
We just love the idea of a guy DJing with a giant marshmellow on his head. Why didn't anyone think of that before?
Picture: Getty
Deadmau5
Joel Zimmerman is the man behind the 'mau5head' and he's created some pretty huge tunes over the years, including the infectiously catchy 'I Remember'.
It's said that the GRAMMY nominated producer was named deadmouse after literally finding a dead mouse in his computer. He then shortened it to Deadmau5 to use online and the rest is history.
He designed the mask himself and wanted it to become an icon.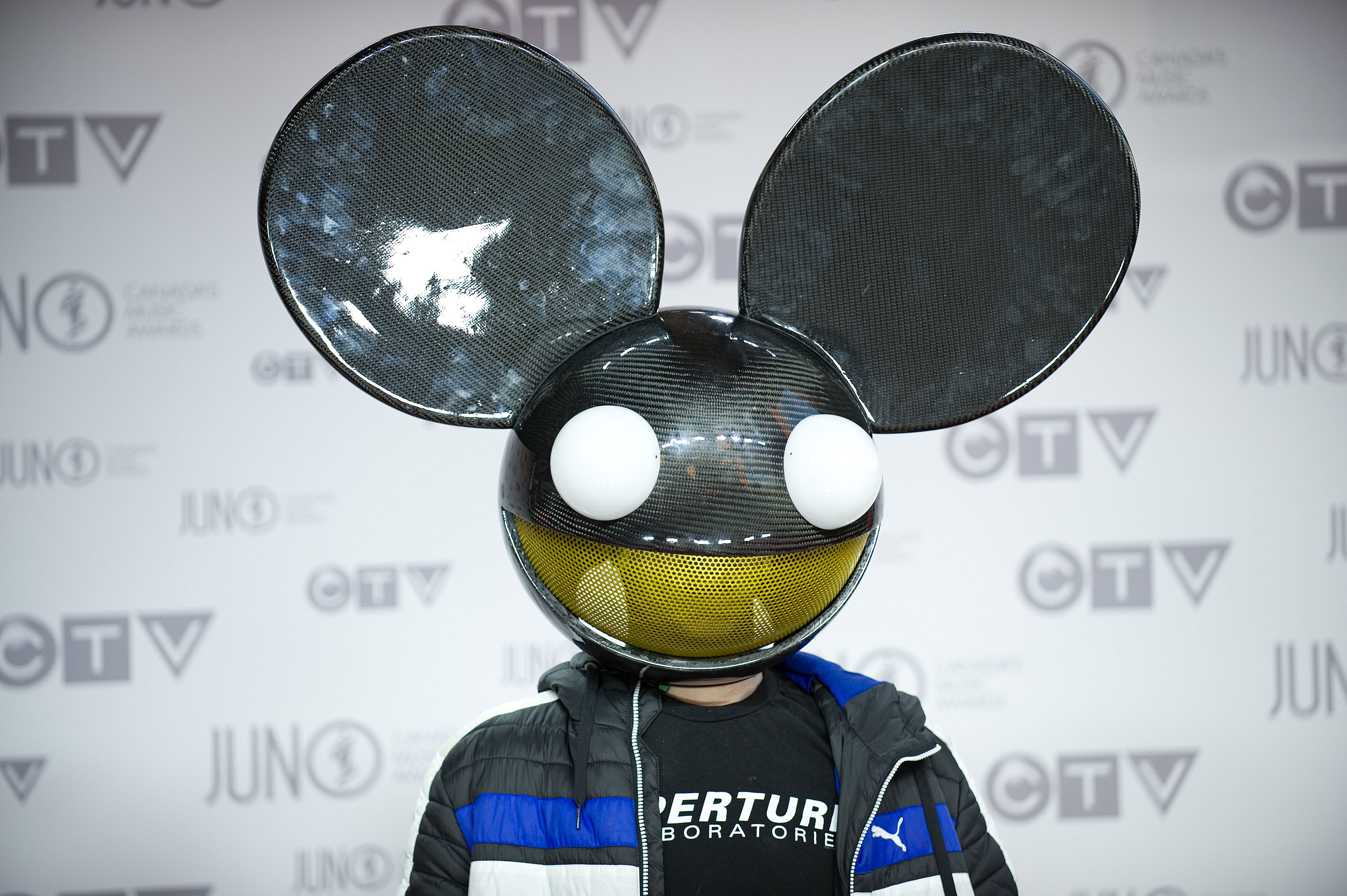 Picture: PA
Jaguar Skills
Another DJ/Producer whose identity is unknown is British star Jaguar Skills. He's produced tracks across a number of genres and worked with a host of artists, including Example, Big Narstie and Milli Major.
Jagskills wears a balaclava on stage in order to create mystery around his persona and it seems to have worked, becuase we have no idea who he really is!
*Looks around to see who might actually be Jaguar Skills*
Funtcase
Funtcase is known for his huge Dubstep and Drum & Bass tunes. and his mask is the most 'horror movie-esque' on our list so far.
The whole thingkinda works for him though because his terrifyingly dangerous beats match his disguise, so it all makes sense really!
DJs From Mars
This Italian duo are known best for their song mash ups and turning chart topping tunes into EDM bangers like it's no one's business.
They also happen to wear the coolest carboard boxes on their heads that we've ever seen. How ocmes we never look this awesome when we used to stick cereal boxes on our heads as kids? (used to, lol)
SBTRKT
When your name is SBTRKT (pronounced subtract), you kinda have to be mysterious, don't you!?
Having worked with the likes of Drake, M.I.A and Mark Ronson, SBTRKT is a pretty big player in the electronic music world and his collabs with Sampha gained massive critical acclaim.
Wanting to let his music do the talking, SBTRKT wears modern interpretations of native society ceremonial masks designed by 'A Hidden Place' at live shows and it's fair to say hey're seriously damn cool too.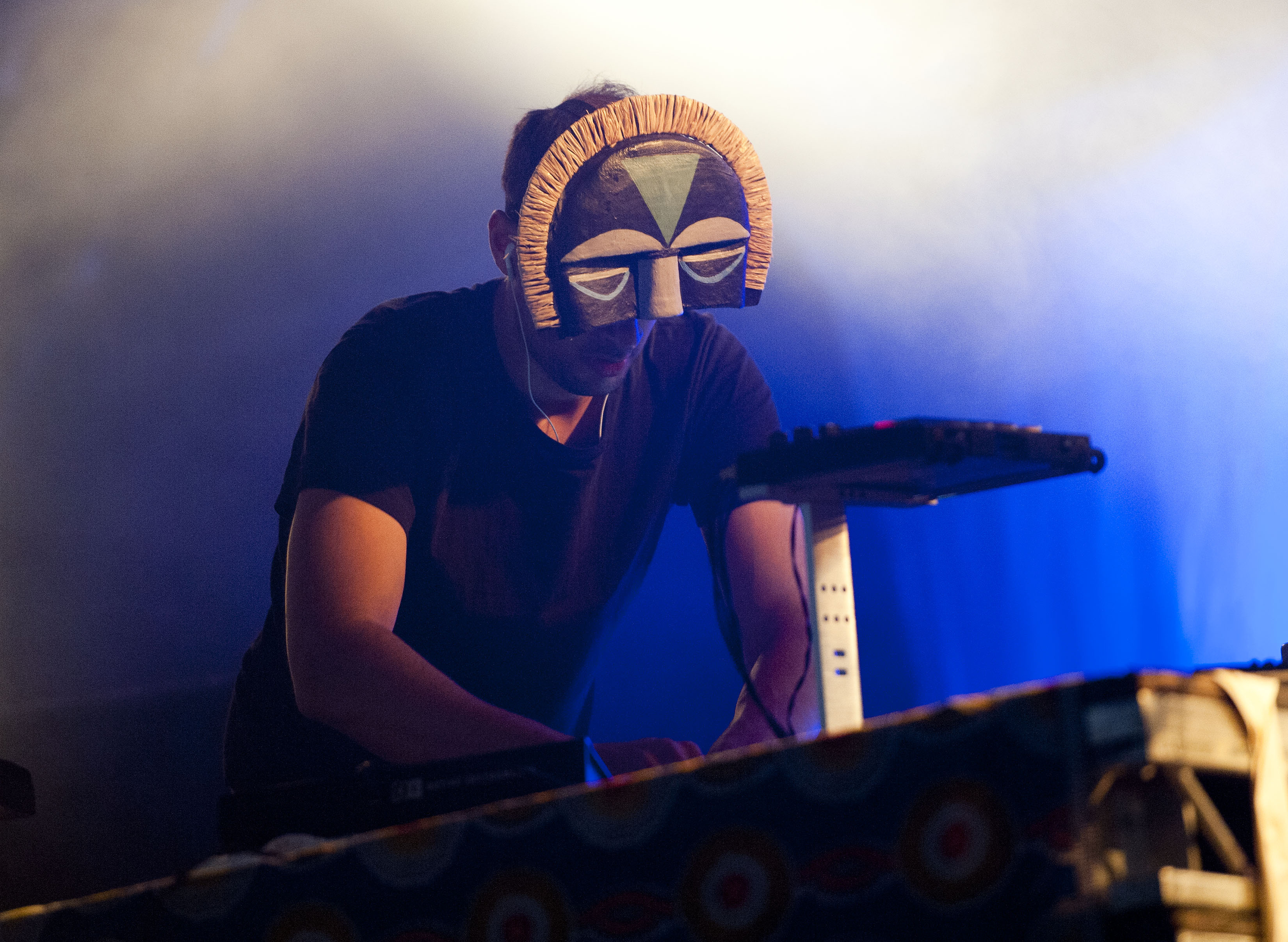 Picture: PA
Zardonic
Zardonic is a Venezuelan producer who makes some pretty unique music.
He fuses metal with heady EDM beats to create his own standout genre and his mask was initially a marketing strategy, but he later said it grew to become something much more. Well we're impressed bro!
Myndset
Having performed alongside Steve Angello and Major Lazer in recent times, Myndset is no amateur in the EDM game.
His driving beats and powerful tunes have earned him some serious recognition, but his mask definitely grabs the initial attention of every crowd when he walks into a room.
The light up eyes add a seriously robotic feature to his image and it must get seriously hot in there!
The Bloody Beetroots
Another Italian act on the list, The Bloody Beetroots is the alias of Sir Bob Cornelius Rifo (although that's an alias too, so we're kinda confused).
THE Paul McCartney once featured on a Bloody Beetroots track, which is very cool, but when you wear a mask that brilliant we'd expect nothing less tbh.
Based on the character 'Venom' from Spiderman, during live sets the eyes on the mask light up at big moments creating a truly incredible spectacle.
Squarepusher
Squarepusher has been around for years. He's released a serious number of projects during his career and his bassy tracks always set off any rave.
His mask is full of LED lights that turn his head into a giant disco ball and certainly create an incredible sight behind the decks.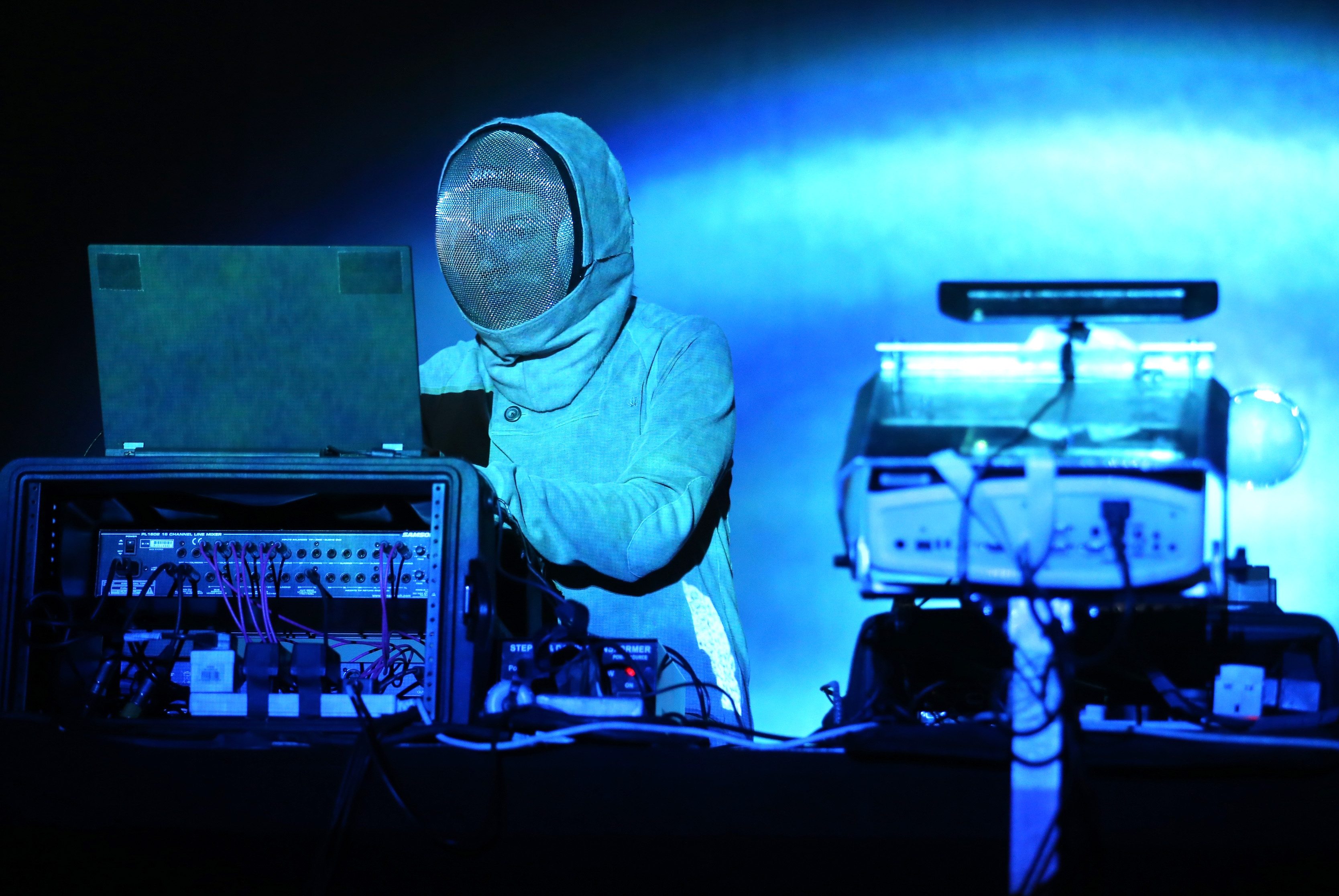 (Pic: Getty)
Cazzette
The Killers featured on one of their tracks and they've performed alongside Avicii, so they're no EDM noobs.
Throw in the fact that they wear these ridiculously awesome cassette tape masks and we think this Swedish duo could be one of our faves on this entire list!
Dr Lektroluv
Making huge electro tracks with basslines for days, Dr Elektroluv is a very interesting fugure in the EDM scene.
His 'hulk-like' green costume is one of the most stand-out disguises in the DJ world and he would certainly fit in as part of an Avengers squad.
There's no mistaking this guy behind the decks, that's for sure!
2 Faced Funks
These guys arguably have the best story behind their masks out of anyone on this list...
"We had been DJ'ing as a duo for quite a while, when we decided to throw a special birthday party for one of us. We bought some cheap, pink masks and advertised with the fact that we managed to book 2 world-famous DJ's."
"That night sold out completely, with 1500 people dancing to our set. That was the moment we decided to take the 2 Faced Funks project to the next level. And it works!"
Brilliant.
Mike Candys
The Swiss DJ/producer has had a string of hits across Europe over the years, with his remix of Faithless' classic 'Insomnia' one of his most popular tracks.
His bright yellow smiley face mask accompanies him to every show and he even has matching yellow speakers in his studio!
DJ Bl3nd
He's previously been named 'SoundCloud Artist Of The Year', played sets all over ther world and gained an impressive 360 million views on YouTube - so you know DJ Bl3nd is a pretty big deal!
His unique horror mask is pretty terrifying and there are a number of alternate variations which all feature different coloured hair. Creepy or what!?
DJ Danger
The French producer has remixed the likes of One Republic, La Roux and The Black Eyed Peas as well as releasing his own EPs, which all happen to be named after specific dates!
His dark and mysterious balaclava-style mask with light up eyes makes for an intimidating image in the DJ booth, but it seems to always help with getting the crowd hyped, as this vid shows...
Claptone
This bio is really all you need to know about Claptone...

'In a now long forgotten world, many generations ago, a bird like shape emerged from wooded darkness, floating and fluttering, drifting and dreaming. Backlit by a bright glow of iridescent light, the undecipherable form wore a dazzling golden mask. Its long beak swooped down like an inverted horn and since then, people have referred to the mythical being simply as Claptone.'
Obvs.

Gunz For Hire
According to their bio, this Dutch duo are an alliance formed in the shadows.
Their brand of hammering hardcore beats has earned them a sizeable fan base and their DJ disguises, which see them turn into living dolls for each show, are certainly something to behold!Good luck finding a better Halloween costume than these two!
> Download Our Fancy New App For All The Latest Music News!
Whilst you're here, check out DJ legend Calvin Harris' brilliant story about working with Rihanna...