How To Steal The Limelight At An Awards Ceremony: Performances
24 January 2014, 13:59 | Updated: 4 December 2017, 11:10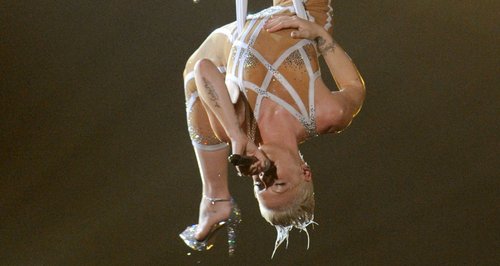 If you want your live set to be on the front pages of the papers the next morning then we've got a few tips that may just help.
So it's awards season and you've just got the call up to perform? Do you run a mile or shine like the star you are? Obviously the answer is...."run a mile" - but that only counts for some of us.
The biggest names in music know just what it takes to deliver on the big stage and shows such as the Grammys offer opportunities to be remembered for years to come.
So "How do I do it?" did we hear you ask? Simple...
Don't be limited to the stage floor

Deliver a collaboration that absolutely no one saw coming…

Explore your creativity and love of The Exorcist movie all at once

If you want to make a total image transformation and have people forget about your wholesome image...

Getting a little "handsy" is always guaranteed to cause a stir
Did someone say animals?

If you're going for a ballad, make sure there ain't a dry eye in the house

Or use it as the perfect opportunity to get back at your ex

Get the pyro out!

And of course... share the love!