WATCH: Ariana Grande Breaks Down In Tears As She Speaks About Manchester Terror Attack
20 August 2018, 11:43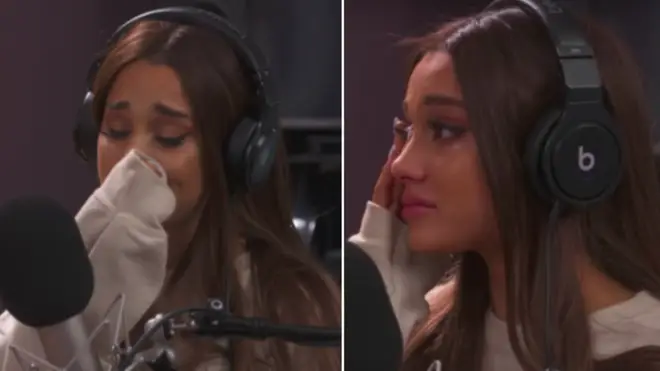 Ariana Grande broke down in tears during an interview talking about the Manchester terror attack.
Unless you've been living under a rock, you'll know Ariana Grande dropped her fourth studio album 'Sweetener' on Friday.
The 25-year-old is now in full promo mode and earlier this week she sat down with Beats 1 Radio to talk marriage, mental health and the tragedy that unfolded last year in Manchester.
Ariana Grande Has Posted A Touching Tribute 1 Year After The Manchester Arena Attack
Ariana had just come off stage at Manchester Arena when a suicide bomber detonated an explosive device which killed 22 fans.
On the new album, the pop star has paid tribute to those who lost their lives on the song 'Get Well Soon'. The track has 40 seconds of silence at the end which brings the running time to 5:22 - the date the attack happened.
Opening up about the song, she said: "It's about being there for each other and helping each other through scary times and anxiety."
She said she 'just wanted to give people a hug musically' through the lyrics, adding: "I feel like the lyrics can be kind of corny when I talk about wanting to hug you and stuff, but I do."
The 'God is a woman' singer then broke down in tears and apologised to the interviewer for losing her composure.
If we're honest, we think she deserves a medal for holding it together up until this point! You are a true soldier, Ari.
Ariana Grande: Manchester and Mental Health [CLIP] | Beats 1 | Apple Music