VOTE For Your Easter No.1! Sigala Vs Fifth Harmony Vs Mike Posner
24 March 2016, 14:26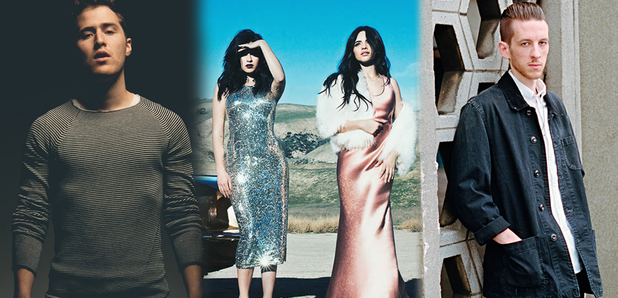 Lukas Graham was finally knocked off the top spot by Sigala after a six week reign. But can the Norfolk DJ hold on to the No.1 spot this Sunday?
There truly is no stopping the superstar DJ. Every time he brings out a single, he rockets into the top five without batting an eyelid. He now has two No.1 singles from three music releases, wow.
However this weekend is going to be extremely tough for the 'Say You Do' maestro as he faces competition from the likes of pop juggernauts Sia and Fifth Harmony.
Remember, you have to download your favourite to move them up the chart!
Download Sia's 'Cheap Thrills' - Download Mike Posner's 'Ibiza' - Download Fifth Harmony's 'Work From Home' - Download Sigala's 'Say You Do'
Here are your contenders to help you decide who you think should become the next No.1 single:
Current No.1: Sigala feat. DJ Fresh & Imani - 'Say You Do'
We can't blame you for putting this absolute banger at the top of the chart. The vocals from Imani are absolutely fierce and yes...the music video makes us want to jump on a plane to Jamaica right now.
Mike Posner - 'Ibiza'
Talk about catchy. Mike Posner's comeback single has spent two consecutive weeks at No.2, can this finally be the weekend when he leapfrogs the competition to score the top spot.
Fifth Harmony feat. Ty Dolla $ign - 'Work From Home'
You #Harmonizers sure know how to push the ladies up the chart quickly don't you! Fifth Harmony have now moved up in the chart for three consecutive weeks. Who's to say they couldn't do it one more time?
Sia feat. Sean Paul - 'Cheap Thrills'
Just when you thought you could finally stop playing that old Sia song on repeat she goes and reveals another tune just as good as the last. Just to make your life even harder when choosing your No.1 champion, this single has the legendary Sean Paul on it (DUTTY!).
Keep it Capital from 4pm this Sunday to see who is this week's Vodafone Big Top 40 champion!