Army To Help Tackle Wildfires
28 June 2018, 07:07 | Updated: 28 June 2018, 07:08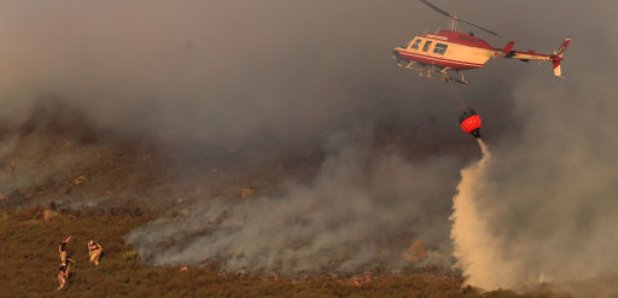 100 soldiers and an RAF Chinook helicopter are being drafted in to help battle the wildfires on Saddleworth Moor.
The troops from the 4th Battalion, Royal Regiment of Scotland, were being sent overnight to join firefighters across Tameside, on the edge of Saddleworth Moor.
Some 55 firefighters were still trying to quell multiple pockets of flames spanning up to 3.7 miles (6km) on Wednesday night.
The soldiers were heading from their barracks in Catterick and will operate out of an Army training centre to control the fire by managing water lines and fire beating, among other means of support.
Defence Secretary Gavin Williamson said it is a display of British troops protecting the UK "no matter the time, no matter the place, and no matter the problem".
The troops were answering a call for assistance from Greater Manchester Fire and Rescue Service (GMFRS).
The Chinook, which will fly out of RAF Odiham, Hampshire, on Thursday morning, will move high-volume pump equipment by air to help douse the flames in difficult to access areas.
Dave Keelan, director of emergency response at GMFRS, had also suggested it could be used to transport firefighters.
He said firefighters were working "extremely hard in really hot conditions" but morale was high, adding: "It's more of a task to get them down here to rest."
Problems faced included frequent changes in wind direction, the peat-embedded terrain which requires large quantities of water to extinguish flames and the searing temperatures.
As of Wednesday lunchtime there were seven separate fire incidents ongoing on areas of the moors, including Calico Crescent, Intake Cottage, Intake Lane, Caste Farm, Dovestones, Higher Swineshaw and Chew Road.
Firefighters used beaters and specialist wildfire equipment to tackle the flames.
In addition, Greater Manchester Police deployed a helicopter to assess the scene and United Utilities provided a helicopter that can be used to drop water on to remote areas.
The blaze had been brought under control having started on Sunday, but it reignited the next day and has continued in one of the worst moorland fires to hit the region.
The impact could even be seen from space as Nasa satellites picked up the plumes of smoke.
Some 34 households were evacuated in Calico Crescent in the village of Carrbrook, Stalybridge, on Tuesday night but residents were allowed to return after air quality assessments.
Air quality levels in the area are being monitored regularly in different locations with people in affected areas urged to follow advice from Public Health England and keep their windows and doors closed.
Experts warned that high levels of pollutants generated from the blaze could have a significant effect on people's health.
Hugh Coe, professor of atmospheric composition at the University of Manchester, said plume peak concentrations were "very high" and air quality close to the fire was "very poor".
He said pollution plumes have been detected in the centre of Manchester.
Four local schools decided to close on Wednesday for the safety of their pupils but one - Mossley Hollins High - will be open on Thursday as normal.
"The situation in the building and valley has improved," the school said.
No rain is forecast for Tameside for the rest of the week at least.
The cause of the original seat of the fire - thought to be at Buckton Hill, which is land above Buckton Vale, Carrbrook - has not been established but fire chiefs said a detailed investigation would be launched at the appropriate time.
One possible line of inquiry could focus on the frequent gathering of off-road bikers - many not displaying registered plates - at a nearby large quarry.