WATCH: Love Island's Chris & Kem Reveal They Have New Music On The Way At V Festival 2017!
20 August 2017, 19:03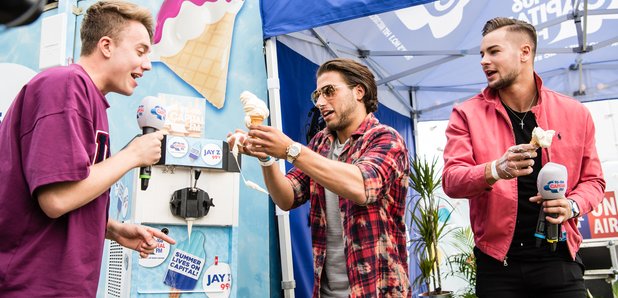 The ultimate Love Island bromance stopped by to chat to us live at V Festival.
All of the biggest music stars come to see us backstage at V Festival, and occasionally you get a few reality stars mooching about in the VIP area too... and when we spotted Love Island's Chris Hughes and Kem Cetinay, we had to pull them in to have a quick chinwag!
Kem and Chris revealed that they've been speaking to a few of the V Festival line up about potential collaborations, including Louisa Johnson and Jax Jones... but that they are getting in the studio alone too!
Kem told Roman Kemp, "There's lots of studio time waiting to happen. Like, we need to actually get to work on doing something. We can't go into the studio if we ain't got things ready."
Chris added, "Do you know what, we've got our own stuff coming up though. We've got to write our own stuff and at the moment we're mincing about with all these big people and not doing a lot ourselves. We had a writing session but we just graffitied our names, didn't we?"
It looks like that first single might be a little way off by the sounds of things, but we're already excited at the prospect of hearing that drop!
While they were chilling in our swanky backstage area, the boys also took it in turns to see who could make the biggest ice cream without it falling over... but who will come out on top?!
(Disclaimer: The following video contains swearing)
Good attempt boys, now get back to writing those songs... the world needs to hear them!