WATCH Clips From Capital Up Close Presents Ariana Grande Live At London's KOKO Camden
4 September 2018, 11:53 | Updated: 5 September 2018, 08:19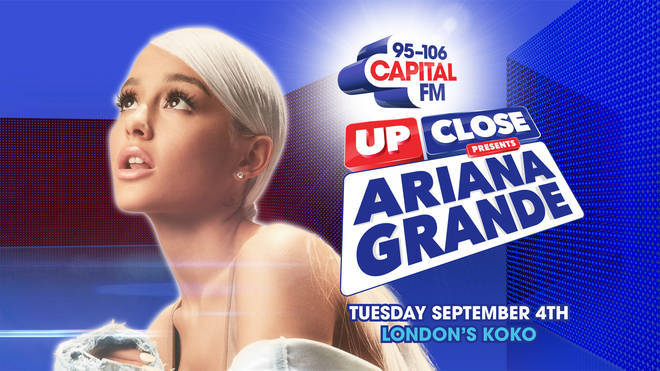 Catch clips from Ariana's performance from tonight's show right here.
When we announced Ariana Grande would be performing a special, one-off intimate show – Capital Up Close Presents Ariana Grande – the reaction was huge... and the night is finally here!
Can You Correctly Fill In The Blanks In These Ariana Grande Lyrics?
Ariana performed at London's KOKO for a crowd made up of her biggest fans who all won their way in by listening to Capital all week, but if you didn't manage to bag one of those highly-coveted tickets, you don't have to miss out on seeing her amazing performance.
She told the crowd at KOKO how much she missed performing for her UK fans:
She performed crowd favourites including 'God Is A Woman':
That voice though!
Ariana also let her fans decide her set list for the night, and had full on conversations with the crowds too!
Could your idols ever?!
She also performed 'No Tears Left To Cry' to the delight of the crowd:
She also performed her hit track 'Hard To Breathe'
What an incredible performer.
Ariana thanked the crowds for showing so much love for her incredible show:
Throughout the night, we will be bringing you all the action from the show right here on Capitalfm.com as well as Instagram and Twitter, @capitalofficial.
Keep checking back right here as we will also have all the HQ videos of the night – and you know it's going to be completely unmissable.
Ari is one of the world's best performers and it's not often you get to see an artist like her in a venue as small as KOKO so it's definitely a once in a lifetime experience - and you'll get to relive it whether you were one of the crowd on the night or not.
> Download Our Free App For All The Latest Ariana Grande News!