10 Most-Viewed Summertime Ball 2014 Videos
9 April 2015, 06:00 | Updated: 30 March 2016, 13:50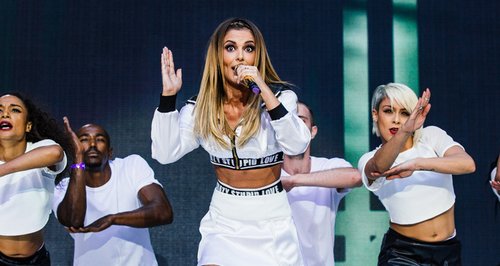 The Summertime Ball with Vodafone is back for 2015! Relive the BIGGEST videos of last year's event right now to get you in the mood for the hottest event of the summer.
On 21st June 2014, 21 HUGE hit music superstars (and 5 surprise guests!) took to the Summertime Ball stage at Wembley Stadium.
It was our BIGGEST Ball ever - and even a year down the line you can't get enough of those incredible performances, with the live videos racking up millions of views.
We've compiled the top 10 videos from the Summertime Ball 2014 to tide you over until we reveal our most INSANE line-up ever for the Summertime Ball 2015!
10. The Vamps - 'Somebody To You'
Despite crossing our fingers really, really hard, Demi Lovato didn't pop out on stage to accompany Brad, James, Tristan & Connor for the live performance of their collaboration 'Somebody To You', but that didn't stop it becoming the most watched video of the boys' four track set.
9. Austin Mahone - 'Mmm Yeah'
The first of our Capital Breakers on the list - 'Mmm Yeah' was Austin Mahone's debut single in the UK and potentially one of the catchiest tunes of Summer 2014!
8. Miley Cyrus - 'Wrecking Ball'
Well, that was an 'interesting' performance, wasn't it!? We STILL can't get over some of the things we saw during Miley's six track set - and neither can you. 'Wrecking Ball' was the most popular of Miley's tracks, and when you watch the video you'll totally realise why.
7. Jessie J feat. Nathan Sykes & DJ Cassidy - 'Calling All Hearts'
This DJ Cassidy, Jessie J & Robin Thicke track was a massive jam in early 2014, so when Jessie J was confirmed for the Summertime Ball line-up we KNEW this track would be making an appearance. Unfortunately, Robin Thicke couldn't make Wembley that day, so Jessie had an INCREDIBLE surprise up her sleeve... Jessie distracted the 80,000 strong crowd in the middle of the stadium while none-other-than Nathan Sykes popped up on the main stage! What a shocker!
6. Ed Sheeran - 'Sing'
Ed somehow managed to get 80,000 people to take their tops off and swing them around as they sang along to his chart-smashing hit. What a showman!
5. David Guetta's Live DJ Set
As the sun went down, Guetta turned the party up a level with his incredible DJ set. From classics 'When Love Takes Over' and 'Titanium', to huge new tunes 'Shot Me Down' and 'BAD', the Frenchman had 80,000 people jumping!
4. Little Mix - 'Salute'
Not only an incredible song performed flawlessly by four awesome women, the atmosphere was electric inside London's Wembley Stadium!
3. 5 Seconds of Summer - 'Don't Stop'
Making their Ball debut (and STILL their only performance as a four-piece!) back in 2014, the Aussie rockers brought the roof down (well, it was open, but you know what we mean...) during their three track set. We just about managed to keep our clothes on for 'She Looks So Perfect', but 'Don't Stop' almost tipped EVERYONE over the edge.
2. Iggy Azalea - 'Fancy'
Officially the most watched Capital Breaker of the 2014 Summertime Ball with Vodafone - it's Iggy Iggs! Miss Azalea just pipped the 5SOS boys to the post as the most popular Australian act at our huge summer event - no doubt a surprise appearance from Charli XCX helped out too.
1. Cheryl - 'Crazy Stupid Love'
No surprises here! It was the song of the summer from the nation's sweetheart! Just weeks before her surprise wedding to Jean-Bernard Fernandez-Versini, Chezza gave us a phenomenal three-track set. Luckily she wasn't wearing her wedding ring at the time, that rock might have made her "double cowgirl" a bit harder to pull off!