14 Things You'll Know Rather Too Well If You've Been On A Girls Holiday To Ibiza
11 July 2016, 17:55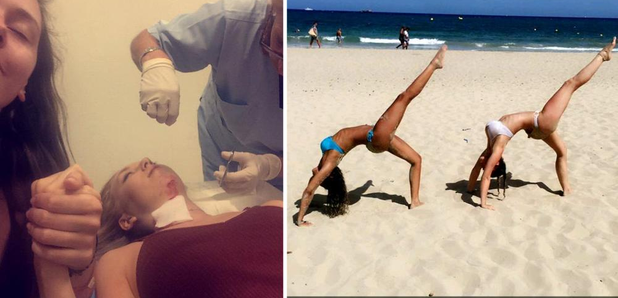 1. The feeling of receiving that impromptu text couldn't get any better.
could not have received this message at a better time! HOW AMAZING IS SHE WE'RE GOING TO IBIZA pic.twitter.com/59QLV4fXfB

— nobody ✨ (@madihorne) May 23, 2016
2. Once everything's booked it's almost impossible to not share a screengrab in excitement.
That's Ibiza booked!!!! Unbelievably excited for July wooo! Girls holiday here we come pic.twitter.com/KFsbve8D6H

— Kiaya Valentine (@KiayaValentine) May 12, 2016
3. One of you will undoubtedly have a countdown on your phone.
Get me to Ibiza plssss pic.twitter.com/G3AT1hupqB

— Megan Rickards (@meganrickards_x) March 14, 2016
4. Suddenly your attention turns to that summer bod...
Me rn and on the girls holiday #Ibiza pic.twitter.com/3WZtTeLfqP

— Zara (@ZaraYasmin98) March 2, 2016
5. And of course the holiday clothes shopping starts.
First holiday clothes have arrived! Get me to #Ibiza! pic.twitter.com/n9HQNkxexo

— Lucie Earley (@LucieJEarley) June 11, 2014
6. Swiftly followed by showing off your purchases.
Brought so many nice swimsuits! Get me to Ibiza already! pic.twitter.com/3MFwuYKEoZ

— Chianti St Clair (@kikistclair) March 23, 2014
7. And you'll be checking the weather forecast approximately 17 times a day before you fly.
Get me to Ibiza. Chance of rain 0% pic.twitter.com/0o3SJpVPu3

— FRANKI (@frankivella) June 20, 2016
8. The night before you fly it's almost essential to lay out all your money just to show how much of a baller you are.
Got my euro, now get me to Ibiza! 5 days! pic.twitter.com/i3x5D2KG6n

— Matt (@hemming_matt) July 3, 2015
9. The flight over to Ibiza is potentially one of the messiest stages of the holiday.
Easyjet knows the Ibiza flight may be messy @MeganLouise123 pic.twitter.com/5hXJ2dYbwq

— Sophie Ricketts (@sophierick) July 6, 2016
10. It's kinda impossible to NOT take a selfie waiting for the flight.
Two years ago today we were going on our first girls holiday pic.twitter.com/NYmHb718na

— helen fortune (@helenfortune_) June 28, 2016
11. And on the plane.
love these cats #ibiza #plane #holiday #girls pic.twitter.com/BOgA49c4dU

— Oopsy Daisy (@DaisyBlackmore) August 12, 2014
12. After what feels like HOURS of getting ready, that pre-night out snap is essential.
Absolutely adore these girls #ibiza #holiday #bestones #besties #girls #ibizablues pic.twitter.com/Unl1efk1vw

— Claire Westlake❤ (@ClaireBearr1992) July 14, 2014
13. When things get slightly carried away in Space
Best what's app I've ever received .... Get me to Ibiza pic.twitter.com/bfm0OX2txa

— MEGO (@megancairnsx) September 11, 2013
14. And if you're not THAT person that ends up needing help in A&E, you're the girl helping!
It ain't a girls holiday unless someone needs stitches #ripkatie pic.twitter.com/knqG0WV7js

— Jessica Stone (@jstoner_) August 29, 2015
You May Also Like...