9 Incredibly Awkward Moments From The GRAMMYs 2016 We're STILL Cringing Over
16 February 2016, 16:26 | Updated: 30 March 2016, 17:14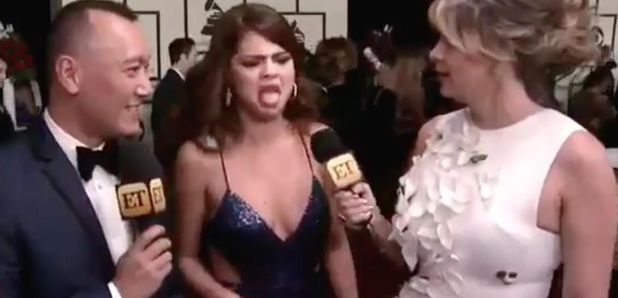 You know when something so awkward happens but you just can't help but keep looking? Yep, this is a whole page dedicated to that.
You'd think that at a night where all the coolest people in the world music came to have a right old party, awkwardness would just not be on the menu. Well...think again. Whether its trying to take a sneaky selfie of your absolute fave artist or a well choreographed secret handshake, we saw everything!
Without any further delay, prepare to overt your eyes only to look back once, twice and once more again.
1. This absolute hero trying to secretly take a photo of Taylor Swift

Nailed it (let us know when you've actually spotted her).
2. Tori Kelly's reaction to Taylor Swift's acceptance speech
Because sometimes you just REALLY can't be bothered to hide you're feelings.
3. That time The Weeknd wasn't quite sure whether he was to sit down or not.
And of COURSE he was live on camera at the time.
4. When the internet didn't hold back on Ariana's dress.
Let's be honest though, if anyone could pull off wearing an ACTUAL carpet, it'd probably be Ari.
5. When Taylor clearly wanted a photo with Selena and she had absolutely no idea
Gahhhhhhh. We just can't stop watching!
6. Whatever the hell was going on between Taylor and her producer after winning
Like when you finally get invited to join the 'cool' guys at school and it all goes a bit nervously wrong on that first meeting.
7. Meghan Trainor balling her bloody eyes out on stage

Supposedly her dad whispered 'You've made it' just before she came up to collect her award and it hit her right in the feels.
8. Justin Bieber's attempt at making his little bro smile
Justin was trying to make his little brother smile but he was too camera shy aww #GRAMMYs pic.twitter.com/aJqu89lgto

— ️ (@iwilIshowyou) February 16, 2016
Understandably Jaxon wasn't quite sure of what the hell was going on.
9. Selena's reaction to the interviewer mentioning Kanye West
[Video]: Selena Gomez's reaction when asked about Kanye West in her interview with ET on the Grammy's red carpet! pic.twitter.com/25PNHmt9a2

— Selena Gomez News (@LifeWithSelG) February 16, 2016
Not a fan Selena?
You may also like...