Grammy Awards 2014: 12 Things We Learned From This Year's Show
27 January 2014, 05:31 | Updated: 30 March 2016, 13:50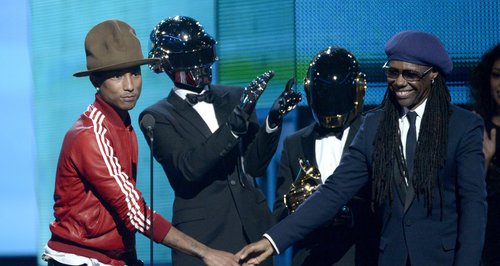 Take a look at all the moments we have the 56th annual Grammy Awards to be thankful for.
So as well as seeing who won the biggest awards in music we also got to learn a few other important things at the Grammy Awards 2014.
For instance, did you see which star caught the bouquet? Or whose hat nearly caused the Internet to have a breakdown?
Join Capital as we look at some of the things this show has taught us.
1. Beyonce and Jay-Z should open everything…we mean everything!

2. Pharrell's hat caused the Internet to go mad...

3. There's even a Twitter account for it…

4. Taylor's audience dancing is still the best…

YUP!

5. Daft Punk like to blow kisses...

6. And hug it out...

7. Taylor's stare into the crowd at end of her performance was one of the most mesmerising things we'd ever seen...

8. Jamie Foxx fancies the pants off Beyonce...

9. Jay has a new gold sippy cup for Blue Ivy...

10. Kendrick Lamar can sure bang a drum...

11. Bruno is still a whole different level of cool than the rest of us...

12. Oh yeh, and looks like Katy Perry will be the next star to get married...