Ed Sheeran's 2018 UK Stadium Tour Dates – New Dates Added Due To Phenomenal Demand!
8 July 2017, 11:09 | Updated: 8 July 2017, 12:02
Ed is gonna be touring the country once again in 2018 – and you just have to be there!
Ed Sheeran has announced that he'll be bringing his stunning live show on tour around the UK in 2018 and he's likely to be hitting up a stadium near you very soon!
Tickets for all these newly announced Ed shows go on sale at 10am on Saturday 8th July 2018, so make sure you grab yours quickly because this is gonna be one seriously incredible show!
Ed's even had to add an extra dates due to phenomenal demand, so get in there quick!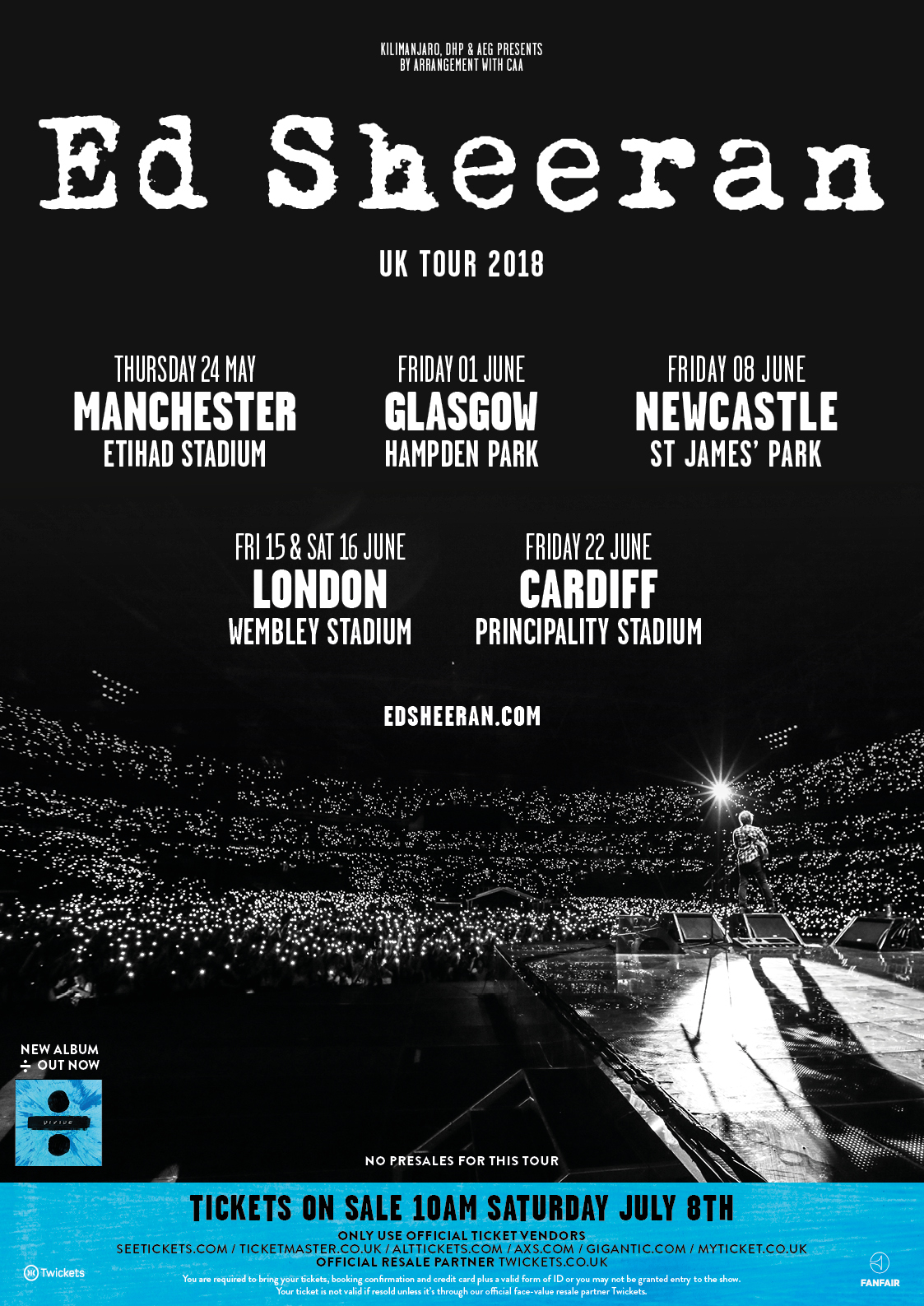 Ed's most recent album'÷' has been an absolute phenomenon, sitting in and around the top of the charts ever since its release back at the beginning of the year.
His singles 'Castle On The Hill', 'Shape Of You' and 'How Would You Feel (Paen)' all flew straight to the upper reaches of the Vodafone Big Top 40 too, so we've got a feeling there's a few of you out there who love the British star.
Check out Ed Sheeran's UK arena tour dates below:
Thursday 24th May 2018 - Manchester - Etihad Stadium
NEW DATE: Friday 24th May 2018 - Manchester - Etihad Stadium
NEW DATE: Saturday 25th 2018 - Manchester - Etihad Stadium
Friday 1st June 2018 - Glasgow - Hampden Park
NEW DATE: Saturday 2nd June 2018 - Glasgow - Hampden Park
Friday 8th June 2018 - Newcastle - St James' Park
NEW DATE: Saturday 9th June 2018 - Newcastle - St James' Park
NEW DATE: Thursday 14th June 2018 - London - Wembley Stadium
Friday 15th June 2018 - London - Wembley Stadium
Saturday 16th June 2018 - London - Wembley Stadium
NEW DATE: Sunday 17th June 2018 - London - Wembley Stadium
Friday 22nd June 2018 - Cardiff - Principality Stadium
NEW DATE: Saturday 23rd June 2018 - Cardiff - Principality Stadium
NEW DATE: Sunday 24th June 2018 - Cardiff - Principality Stadium