BRITs 2017 Performances: Watch Ed Sheeran, Little Mix, Katy Perry & More OWN The Stage!
22 February 2017, 19:18 | Updated: 23 February 2017, 12:39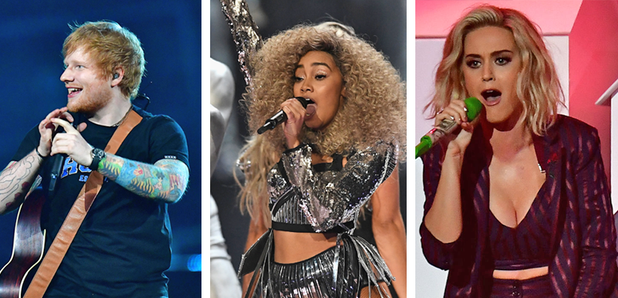 The biggest night in British music is here... and it's gonna be HUGE!!
We're just HOURS away from seeing the world's biggest music stars rocking the stage at London's O2 Arena for the 2017 BRIT Awards!
> BRIT Awards 2017 Winners: Who Bagged The Most Awards At The BRITs?
Check back here to watch all the performances in full, and reignite the energy of one of the world's best awards shows.
Little Mix 'Shout Out To My Ex'
Carried to the stage by some seriously muscular men dressed in silver, Little Mix proved exactly why they're the Queens of pop music right now with a stunning performance of their huge hit 'Shout Out To My Ex'.
Looking as gorgeous as they always do, the ladies nailed their dance moves, had pyrotechnics on stage and were even lifted high into the air on a stage lift. Talk about a performance to remember!
Bruno Mars 'That's What I Like'
Could this guy be any cooler? Bruno Mars' performance of his latest track 'That's What I Like' was an absolute masterclass. He just doesn't miss a note and his vocals are always phenomenal, plus it helps that he's got some totally incredible moves too.
Accompanied by his equally awesome backing vocalists, Bruno even found time to 'break it down' for all the ladies in the house and showcased his smooth side - great work Bruno!
Emeli Sande 'Hurts'
Dressed in a stunning black outfit, 'Best British Female' winner Emeli Sande made sure her stunning vocals were centre stage and her performance of 'Hurts' at this year's BRITs was out of this world.
Having brought her sister on stage to collect her award, we're sure all her family would've been proud of this showing from the Scottish star. Such a superb reminder of why Emeli is one of the most loved British vocalists around.
The 1975 'The Sound'
It's been an incredible year for The 1975 and they picked up their first ever BRIT Award this year winning 'Best British Group' and whilst their performance was amazing, it will always be remembered for the sassy comments that sprung up on screen during it.
The band clearly seemed intent on poking fun at themselves and it was seriously funny, but with a gospel choir joining them on stage and a guitar solo to die for, the guys demonstrated exactly why we love British music.
George Michael Tribute
When a British music icon tragically passes away, the whole nation feels a sense of loss and that was particularly true with the recent loss of George Michael in december 2016. His former Wham! bandmates Pepsi, Shirlie and Andrew Ridgeley paid a touching tribute to their good friend before Chris Martin paid a music tribute.

His performance was simply stunning and was a fitting tribute to one of the greatest British songwriters ever.
Katy Perry 'Chained To The Rhythm'
The return of Katy Perry has been simply incredible so far...but no one was expecting this unmissable performance of 'Chained To The Rhythm'.
There were dancing houses, giant skeletons bounded onto the stage and Skip Marley made a guest appearance too. Let's not forgett that Katy was looking out of this world with her new blonde hair too! All in all, this was epic.
Skepta 'Shutdown'
What a year it's been for the Grime scene and Skepta in particular. After picking up the Mercury Music Prize for his much loved album 'Konnichiwa' earlier this year, he went on to pick up three BRITs nominations.
Although he didn't land any awards on the night, his performance of party-starting tune 'Shutdown' more than made up for it. Just look at those dance moves!
Coldplay & The Chainsmokers 'Something Just Like This'
We're used to seeing the wolrd's biggest and best stars up on stage performing some of their huge hits, but one thing we love even more than that is when they perform unique mash ups together.
So when Coldplay and The Chainsmokers stepped on stage together to perform their brand new track for the first time EVER, we couldn't have been more excited. Then Chris Martin climbed into the crowd and a load of confetti poured from the sky and we completely lost the plot. So good.
Ed Sheeran 'Castle On The Hill/Shape Of You'
When Ed Sheeran returned from his year off, he literally took over the UK music industry. 'Castle On The Hill' and 'Shape Of You' held the number 1 and 2 spots on the Vodafone Big Top 40 for weeks and his BRITs performance showed just waht great form he's in atm.
But when Ed brought out Grime star Stormzy to perform an alternative version of 'Shape Of You', everyone inside the place went crazy and it's easy to see why! This is a collaboration that will be remembered for years to come.
Robbie Williams 'Heavy Entertainment Show/Love My Life/Mixed Signals'
Strolling onto the BRITs stage followed by a line of gorgeous women, this performance was nothing new for BRITs Icon Winner Robbie Williams. He's the most succesful artist in BRITs history and he proved it with an accomplished medley of tracks.
Ever the suave gent, Robbie looked as dapper as always and was a worthy winner of such a stunning award.
You May Also Like...