WATCH: Hosts Ant And Dec Backstage Ahead Of The BRITs 2015
25 February 2015, 13:58 | Updated: 30 March 2016, 13:50
Dave Berry catches up with Ant and Dec the morning of the BRIT Awards to find out just HOW much the 2015 hosts know, and more importantly can reveal...
Unfortunately for PJ and Duncan fans, the duo reveal their musical aliases will NOT be making an appearance at the BRITs with their smash hit 'Lets Get Ready To Rumble', despite much speculation.
The Geordie boys also banter with Capital's Dave about the pressure of presenting the awards, and their lack of Southern twang when it comes to hosting at London's iconic O2 arena.
Dec reveals to our dismay that he purposely asks to not be told winners and details of the event prior, seeing as he would be the one most likely to share the information... there goes our plan to probe him for juicy inside gossip!!
And the question we all want to know, do the pair share a dressing room at events, or opt for their own space with individual rooms?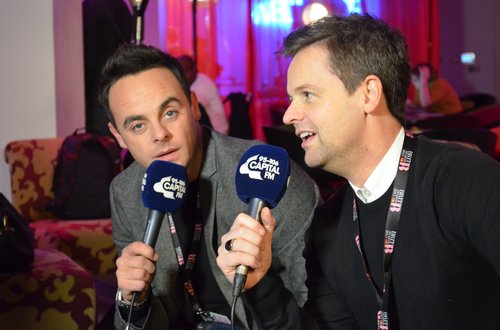 Catch ALL the BRIT Awards 2015 action in our LIVE blog on Capitalfm.com and on-air from 4pm today!

You may also like...