BRITs 2015: 16 Of The BEST Twitter Reactions Leading The Internet Chat
26 February 2015, 00:32 | Updated: 30 March 2016, 13:50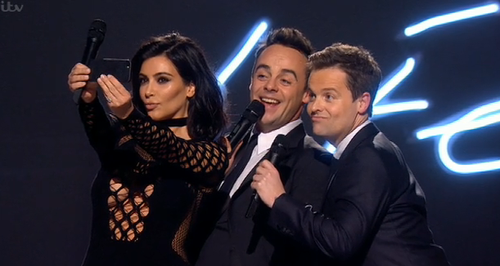 With another headline-grabbing BRIT Awards show dominating the music calendar Twitter had some pretty hilarious bants, so we couldn't help throwing just a couple on to the site for y'all to enjoy!
From Kim Kardashian selfies, show stopping performances, and what looked to be a leaky roof! The BRITs had some entertaining moments over the two hours it was broadcast on our tellies, and because NO ONE reports on the news better than Twitter, we pick our favourite Tweets from the evening:
1. #CAPEGATE
Wow, that Cape! That's some material, girl! #BRITAwards

— British Logic (@BritishLogic) February 25, 2015
2. It'd seem Kanye's built himself a rep... We can't think of any reasons as to why.
Did they manage to fit Kanye's ego through the door? #BRITAwards #BRITs2015

— Katy (@_whatkatydid_) February 25, 2015
3. Lots of love for Ed Sheeran, definitely a night worth dressing up for eh Ed?!
I love @edsheeran for how he performs, using his own craft on the spot. It's so inspirational. Good work Ed! @TheBRITAward #BRITAwards

— JB And MJ (@chloswaggyxoxo) February 25, 2015
4. If ever there was going to be a health and safety risk during the night we're pretty sure this would've been it!
Paloma needs to bang on the ceiling with a broom - upstairs' washing machine has broken again #brits

— Caitlin Moran (@caitlinmoran) February 25, 2015
5. Us, in like every selfie, EVER!
when you feel like kim but you're really ant and dec pic.twitter.com/EoyPZRzZo3

— megan (@phanamore) February 25, 2015
6. This was def the scene in Kanye's dressing room
Poor Madonna! Meanwhile, Kanye's backstage like, "I told them to let me close the show!" #BRITAwards pic.twitter.com/W832i9In8x

— Dionne Grant (@DionneGrant) February 25, 2015
7. The BRITs really did rep the UK good and proper
Nice to see the British weather getting represented at The Brits

— Lucie Speciale (@LucieSpeciale) February 25, 2015
8. SHOCKER
"Karlie Kloss is so tall!!" its almost like its her job

— jordan (@vogueatlantica) February 25, 2015
9. When Ant forgot the name of his own band...
Pk and Duncan now is it Ant?#BRITs2015

— Humes~ (@Megan_Marv) February 25, 2015
10. Kanye nearly shut down the O2 with his shenanigans
*This Tweet has been muted*
11. Don't get us started on the ad breaks!
Waiting on Ye to perform like. They've been hyping Kanye for the longest. I'm ready for him to come out#BRITAwards pic.twitter.com/C7QCoikU0D

— IG:miichxll (@Neella28) February 25, 2015
12. Aww bae
@edsheeran at the brits....fecking unbelievable!! #upthegingers #BRITAwards

— Sarah Middlesworth (@SarahDiamond24) February 25, 2015
13. Gee, thanks!
@CapitalOfficial @WW5SOSOnline @5SOS who ever runs capitals twitter, I like you

— dia - AT THE BRITS (@thebandsbanana) February 25, 2015
14. Your move, Kim
For future reference, Kim. That's how you break the internet. #capegate

— Chris Longman (@chrisjlongman) February 25, 2015
15. Maybe one chat up line to be avoided around Madonna right now
"Get your cape, you've pulled" - Madonna's backing dancer #Brits

— Adam (@AdamofAlbion) February 25, 2015
16. We thought Capital's Dave Berry looked a bit different next to Lisa Snowdon on stage
Trying to work out what @daveberry_tweet has done differently ? @CapitalOfficial @BRITAwards pic.twitter.com/oIeOtxbv2Z

— Ed James (@edjames1) February 25, 2015

You May Also Like: