From "OMG" To "WTF": The Most Talked About BRITs 2017 Moments
22 February 2017, 22:13 | Updated: 24 February 2017, 11:42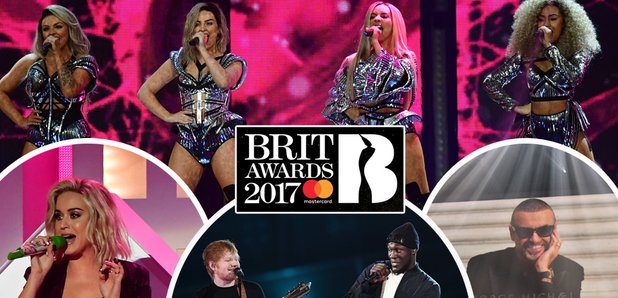 From a stunning tribute to George Michael to Little Mix completely SLAYING their performance and one that people thought got hacked - it was ALL GO at the BRITs 2017!
It wouldn't be the BRIT Awards without some seriously iconic moments that you'll be talking about for years to come (Geri Halliwell in THAT Union Jack dress, anyone?) - so here's what everyone couldn't get enough of from this year's BRITs!
> BRIT Awards 2017 Winners List In Full - Who Won BIG At The BRITs?
Capital's Roman rocked Zara Larsson's earring on the red carpet
Roman finally found out exactly what girls go through with clip-on earrings when he tried Zara's on... luckily there were TOTALLY SUBTLE and blended in well with his outfit. Ahem.
Little Mix opened the show in SPECTACULAR style, with an unforgettable performance!
Carried in on thrones, the Little Mix ladies all sported blonde hair (quite a change from their red carpet looks!) including Leigh Anne who had the BEST afro we've ever clapped eyes on. Joined by dancers in futuristic outfits, the girls remixed their hit song 'Shout Out To My Ex' - now THAT is how you open the BRIT Awards!
Dan from Bastille revealed a SERIOUSLY embarrassing moment he had just experienced with Katy Perry
The Bastille frontman tried to impress K-Pez with an Alan Partridge joke... which fell hella flat when the American star had no idea who Alan Partridge actually was. AWK.
omg @BastilleDan just had THE most awkward red carpet experience with @KatyPerry #BRITs https://t.co/8bWm154iaL

— Capital (@CapitalOfficial) February 22, 2017
Everyone thought The 1975 got hacked as insults flashed up during their performance
When words suddenly started popping up on the screen calling the band 'boring', 'unoriginal' and 'cringeworthy', everyone was confused whether they were part of the performance or someone had hacked the feed. (They were part of the boys' show, FYI).
the 1975 at the brits 2017 (part two) pic.twitter.com/ylXfIcXXjg

— max (@maxcdesign) February 22, 2017
Conor Maynard chose his best One Direction WAG
When faced with One direction's girlfriends or rumoured dates, Conor made a VERY interesting choice on the red carpet...
Continuing in @RomanKemp's lil' awards ceremony... @ConorMaynard announces the winner of 'Best 1D WAG' #BRITs https://t.co/ogaORLF8lz

— Capital (@CapitalOfficial) February 22, 2017
Chris Martin did a stunning tribute to George Michael, including a virtual duet
In tribute to the musical icon, Chris Martin was joined by a projection of George as they performed a duet of George's song, 'A Different Corner'. It's safe to say there wasn't a dry eye in the house.
A beautiful tribute to @GeorgeMichael especially when George joined in . You have been and still are loved! pic.twitter.com/O9GQqXFmJd

— Dutchieemy (@Dutchieemy) February 22, 2017
The Little Mix ladies got their first ever BRIT award - and thanked their exes for the privilege!
The girls scooped the British Single with Capital - and Jade hilariously told all of their exes, "This is for you lads!" as they couldn't hide their joy at bagging their first ever BRIT Award - and they were still on top of the world when they joined Roman backstage after the awards too!
Something tells us @LittleMix have had a lil' drink after winning tonight... #BRITs https://t.co/aNIjGBUVrc

— Capital (@CapitalOfficial) February 22, 2017
Katy Perry's performance was overshadowed by her set creeping out in the background - HILARIOUS
During her performance of 'Chained To The Rhythm', Katy was surrounded by dancing houses and two giant skeleton puppets - but what was even better was watching the houses awkwardly side-step off the stage while the next award was introduced. Those legs though! And eagle-eyed fans even spotted one of the houses fall off the stage mid-performance... d'oh!
Honestly lads, nobody noticed... #BRITs pic.twitter.com/uyLvNHkCz6

— Capital (@CapitalOfficial) February 22, 2017
Skepta's set was caught by the over-zealous muter
Reminiscent of Kanye West 2015, anyone? Skepta's post-watershed performance was continually muted - leading to a lot of annoyed viewers!
Watch @Skepta shut down the @BRITs pic.twitter.com/YJoxmwDLEC

— DUMMY (@DummyMag) February 22, 2017
Coldplay and the Chainsmokers were the night's surprise act to perform
It was kept top secret, but these two bands put on a stellar performance together, complete with an incredible light show. Chris Martin even jumped into the crowd to start an impromptu mosh pit. A full on musical collab next please, right?
Coldplay and The Chainsmokers perform Something Just Like This at the #BRITs https://t.co/kMlNpX8qji pic.twitter.com/DDRoYtK9ek

— Coldplaying (@coldplaying) February 22, 2017
Liam Payne collected One Direction's award for British Video all on his lonesome
The other boys might not have been there but Liam made a lovely speech assuring fans that "One Direction is who we are". Adorable!
PROTECT LIAM PAYNE AT ALL COSTpic.twitter.com/cU2zV1rRej

— camille ◟̽◞̽ (@artkissziam) February 22, 2017
Ed Sheeran mashed up 'Castle On The Hill' and 'Shape Of You' - and was joined on stage by Stormzy!
There's a reason he's one of the best pop stars out there - and even Game Of Thrones' Maisie Williams was caught totally rocking out in the crowd to 'Castle On The Hill', but the real surprise came when Ed was joined by Stormzy for a remix of 'Shape Of You'. This is definitely a performance we will be talking about for a LONG time!
Ed Sheeran x Stormzy pic.twitter.com/fpI44d5ZVH

— MBUK (@MusicBangersUK) February 22, 2017
Well, we're already excited to see what 2018 will bring after this incredible show!
You May Also Like...