Watch Out - The Chainsmokers Have Started Calling Out People Who Troll Them Online
4 April 2018, 08:30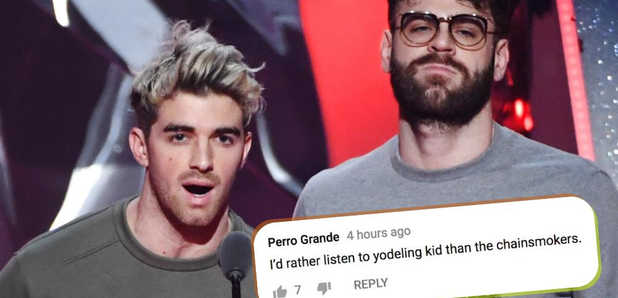 "Lol SMH at youtube comments."
The internet is a lovely place full of warm-hearted people. By which we mean, there's unfortunately trolls in every nook and cranny of the billions of websites on the world wide web.
Chances are, you've seen your fair share of them. Even The Chainsmokers have come face-to-face with trolls.
> Reading The Emotional Tribute The Chainsmokers Shared After The Death Of A Fan Will Make You Shed A Tear
Pic: Getty
Even though the duo have created such anthems as 'Closer', 'Something Just Like This' and 'Don't Let Me Down', and they have over 3.33million Twitter followers, they've got some scathing remarks.
But that's not stopping Andrew Taggart and Alex Pall from calling out those who have left scathing comments on their videos, even sharing one that read "I'd rather listen to yodelling kid than the chainsmokers [sic]".
Me too kid, me too pic.twitter.com/GzilkRHEpD

— THE CHAINSMOKERS (@TheChainsmokers) April 4, 2018
They then went on to post "Lol SMH at youtube comments. We need to bring back cloud comments".
> We've Got All Of The Latest News And Gossip Over On Our App!
Did your parents not teach you anything? If you haven't got anything nice to say, don't say anything at all... Especially as The Chainsmokers might rip you for it.
How can you rinse The Chainsmokers, after their performance of 'Roses/Bloodstream' at the #CapitalJBB?