Reading The Emotional Tribute The Chainsmokers Shared After The Death Of A Fan Will Make You Shed A Tear
28 February 2017, 12:05 | Updated: 21 March 2017, 10:54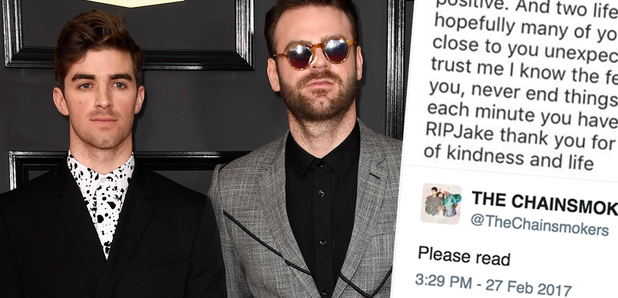 We're feeling super emotional right now...
Music is a very powerful thing. It can bring people together in ways that not many other things can and it can change people's lives.
The Chainsmokers were brought to tears recently after one of their fans passed away and they've shared a potent message on Twitter to explain the whole situation.
It all began when the duo received an email from a fan informing them that he was supposed to go to their show in London with his pal who was battling cancer.
Unfortunately his friend wasn't well enough to attend and so instead The Chainsmokers sent a video message to him telling him to stay strong and stating that they'll make sure he's stage-side the next time they hit up London for a show.
Sadly though, the day after receiving the video the fan passed away. Now The Chainsmokers have shared their story on Twitter and it will undoubtedly put a lump in your throat when you read it...
Please read pic.twitter.com/3rMvkARsVB

— THE CHAINSMOKERS (@TheChainsmokers) February 27, 2017
Such a sad story.
You may also like...