Taylor Swift Wows At Premiere Of New Film Once Chance With James Corden And Paul Potts
10 September 2013, 15:31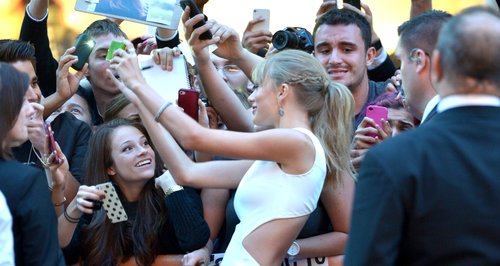 The '22' singer' turned out to show her support for the film after contributing to its soundtrack.
Taylor Swift stole the show at the premiere of new Paul Potts biopic One Chance this week out at the Toronto International Film Festival.
The 'I Knew You Were Trouble' star showed off two different outfits at the high-profile movie event, while also posting for snaps with film cast members like comedian James Corden.
Taylor contributed the song 'Sweeter Than Fiction' to the soundtrack of One Chance, which plays over the film's ending credits, and says she feels "honoured" to be part of the project.
"Tonight= my first Toronto Film Festival experience - Going to the premiere tonight of One Chance," Taylor tweeted yesterday. "Honoured to have written the end credit song!"
Check out a picture of Taylor Swift posing with the cast of One Chance, including James Corden, at the film festival below:
One Chance follows the meteoric rise to fame of amateur opera singer Paul Potts after he auditioned on Britain's Got Talent'.
View a picture of Taylor Swift posing on the red carpet of the event below:
Taylor Swift is widely rumoured to be teaming up with Jennifer Lopez for a collaboration after duetting together on her 'Red' tour recently.