Taylor Swift Rocked Up To A Super-Fan's House Uninvited And Gifted Her With ALL The T-Swift Merch
12 October 2017, 11:18 | Updated: 12 October 2017, 13:58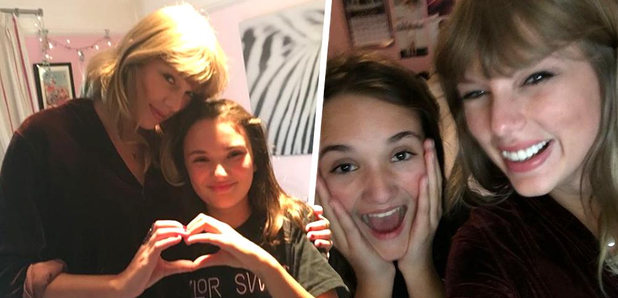 We'll just sit by our front door waiting for this to happen to us, now.
Taylor Swift is kind of a big deal. She's won ten GRAMMYs; she's about to release her sixth studio album, and she's made appearances in three huge Hollywood movies. So, yeah - Taylor is big-time.
That's why we'd never stop shaking if she appeared at our front door, totally unexpected, baring gifts. Just like she did for one of her super-fans.
> Taylor Swift Surprised Fans By Gatecrashing Their Instagram Live's & Proved That She's Still 100% Mom
Pic: Instagram/laraheartstaylor
The 'Look What You Made Me Do' singer made someone's life by popping up to their house, totally unexpected. Lara, who was surprised by Tay, uploaded a few snaps to her Instagram, saying - and we could do with a translator here; "INJUST MET THE WOMAN WHO MADE AN IMAPact ON MY LIFE AND J CANNOT BREATHE OR TYOE INPROBABLY WONT BE ANSWEINF DMS BC I CANT TRYOE WELL BUT SHE SPOKE ABOUT HYGTG AND THE ALGUM"
Not only did Taylor make Lara's life, but she also dropped off tonnes of 'Reputation' merchandise, including tees and bags.

Pic: Instagram/laraheartstaylor
> Our App Has All Of The Taylor Swift News You'll Need, But Are You '...Ready For It?'
Every time we hear the doorbell now, we're gonna be disappointed when it's not Tay.
It's a good thing Taylor Swift didn't pop up at Paloma Faith's house...