Taylor Swift Admits 'I Knew You Were Trouble' Is About Harry Styles?
18 March 2013, 13:24 | Updated: 27 March 2017, 16:31
The 'Begin Again' speaks about performing the track in front of the One Direction man at last month's BRIT Awards.
Taylor Swift appears to have confirmed that her recent smash hit 'I Knew You Were Trouble' is about ex-boyfriend Harry Styles.
The 'We Are Never Ever Getting Back Together' star also told the Sunday Times magazine that her performance of the track at the BRIT Awards 2013 was aimed at the One Direction man.
Speaking about the track, she said: "You're balancing the analytical side of your brain, which is telling you where to go and how to go there, with the other side of your brain, which is saying, 'Feel everything you're singing, and show it on your face.
"Feel everything exactly as you felt it when you wrote the song."
Asked if she knew the 'What Makes You Beautiful' star was watching her performance at London's O2 Arena for the BRITs, she added: "Well, it's not hard to access that emotion when the person the song is directed at is standing by the side of the stage watching."
The performance was one of the highlights of the night as she stripped off from a period style white dress into a short black outfit during the rendition.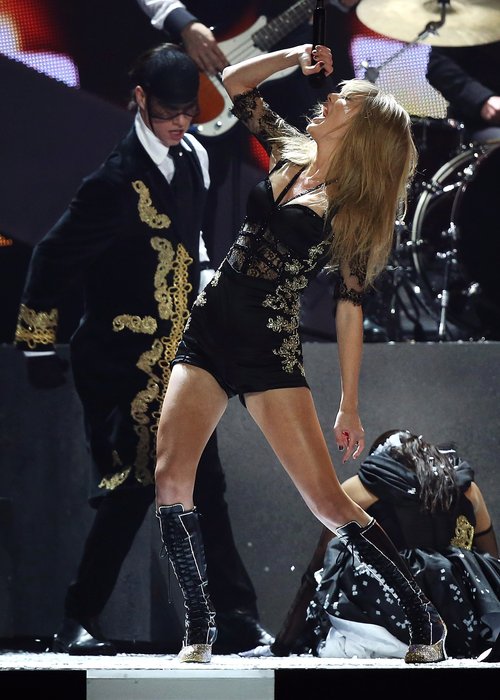 Although the song was written before the pair went public with their romance at the end of 2012, the couple were rumoured to have enjoyed a brief fling at the start of last year.
Meanwhile, last week Taylor released her new music video for '22' and has been spotted shooting a new promo in the past few days as she continues her 'Red' North American tour.
Check out some of One Direction and Taylor Swift's best music videos below:
[[ This video has been removed ]]