Taylor Swift And Hailee Steinfeld Get Festive With Christmas Baking And Card Making
20 December 2013, 11:03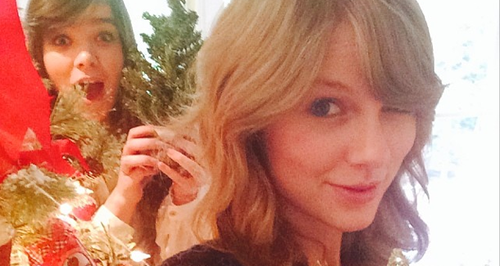 The pair shared snaps of their homemade efforts on Instagram to get fans in the Christmas mood.
Taylor Swift and actress Hailee Steinfeld helped their fans get well and truly into the Christmas spirit this week by sharing snaps of their festive day of baking and crafting.
The '22' singer and True Grit star Hailee posted up pictures of themselves baking Christmas cookies, making homemade Christmas cards and generally feeling festive yesterday (19th December).
Check out another snap of Taylor and Hailee enjoying their day together below (Credit: Instagram):
"Merry Swiftmas and Hailee New Year," Taylor posted alongside the pictures.
The pair have been close friends for some time now, with 17 year-old Hailee first rising to fame in the Coen Brothers' Western critical smash.
Taylor Swift was nominated for Best Original Song at next year's Golden Globes 2014 for her song 'Sweeter Than Fiction from One Chance.